Last weekend I paced the Hot Chocolate 15k in Philadelphia.  Along with two runners who stuck with me for the entire race, I set a 15k PR.  Because it was the first time I've ever run 15k.  I'm sure I could have done it faster but not sure I could have had more fun.  I breezed through packet pick-up Friday afternoon and easily swapped my race jacket for a bigger size to give to my mom.  I was surprised with the quality and impressed.  Then it was home for pre-race pizza and an early night.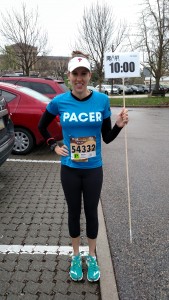 Hot Chocolate 15k day began at 5:30am with some plain cereal and a bottle of water.  The morning was chilly with rain predicted from 6 to 10am.  The exact hours I and thousands of others would be outside gathering, preparing to run, actually running, collecting my goodies and meandering back to warm, dry cars.  I arrived around 6:20 and found a great (free!) parking spot.  I definitely recommend getting there early.  Then I collected my pacing gear (sign, shirt and complimentary 2XU compression sleeves) as it began to rain, took a pacer group photo and went back to the dry car to wait for the 8am start time.
Gear check seemed to be moving smoothly and when I went back to the start at 7:45 (still raining) the Port-a-Potty lines were moving nicely.  I made my way to Corral K and chatted away until we started right on time with 3 minutes between corrals.  With such large gaps traffic was minimal throughout the race which surprised me because I had expected the 'open' runners that started behind us to come weaving through at any moment.  They never presented a problem.
There weren't as many chocolate stops at the Hot Chocolate 15k as I had expected with the first on course treat being strawberry marshmallows at water stop 1 around the 3 mile mark.  The rain had let up, or I didn't notice it anymore, making for an actually decent day.  Water stops were also at Miles 5, 7 and right around 8.5.  There was also a second marshmallow station and each stop had both water and Gatorade with the second stop featuring Nuun hydration.  Near each water stop were banks of potties with mostly short lines.
Crowd support is almost completely absent except for the first mile and the finish but the out-and-back feature makes it easy for your fellow participants to be your cheer squad as you passed them in the opposite direction.  I did plenty!  The course is flat with some very soft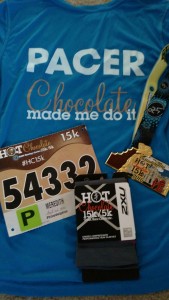 curves and plenty of running room for the most part.  Time flew by with the two wonderful ladies who stuck by me for 14 of the 15k before taking off to rock the finish line.
After i crossed the finish at 1:32.25, I noticed the rain had picked back up, got my big medal, snapped a few photos with my fellow pacers, grabbed a bottled water and headed off the collect my Hot Chocolate 15k filled mug.  It turned out to be a perfect day for hot chocolate that warmed me from my soaked feet up.  Since I was handling that bottle of water, I quickly dipped my marshmallow in the liquid chocolate and ate it while beginning my trek back to the car.  With it still raining, my liquid was rock solid by the time I got there but I still got to enjoy the snacks.
This race did exactly what I needed it to.  Kicked off my month of racing with a great day that got my mojo back and made me ready to run again.  I had a blast setting a 15k PR on the simple course with some awesome runners.  If you're looking for a competitive, scenic course this might not be the race for you but if you want to get there for some fun and a good excuse to eat lots of sugar,  Hot Chocolate 15k/5k might just be the one for you.
Meredith
Have you run a Hot Chocolate 15k event?  What did you like best?