We've all heard it.  We've all thought about it.  Some of us have even tried it.  Paleo, vegetarian, vegan, raw.  The idea of eating less sugar, less processed food and downing more plants and clean food.  It sounds easy but the truth is it isn't.  Changing your diet is hard.
I tried paleo and it didn't work for me.  I had a lot of trouble meeting my caloric needs and felt tired/grumpy/cruddy without carbs.  I also tried going dairy-less for ten days.  Not only was I seriously craving some cheese, I didn't notice any difference at all in my digestion and energy levels.  Lactose intolerant I am not.  Vegetarian lasted about three whole days for me.  Soda was never a factor, nor was coffee.  I've been a water drinker with the occasional apple or orange juice, protein shake, glass of milk or chocolate milk, sports drink and boozy treat (maybe more than occasional with those) for as long as I can remember.
So while I won't be going paleo or vegan any time soon and don't need to kick a caffeine habit, I am trying to clean up my eating.  With part of my Unbeatable Mind training focusing on nutrition and goals to PR at several distances this fall cleaning up my eating is something I've finally committed to.  My first step was to add more plants to all of my meals by making it easier to do so.  I spend meal prep time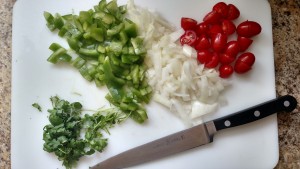 chopping veggies for cooking, salads and snack time.  This one ended up looking like the Italian flag but I'm enjoying preparing more food because it makes me think harder about what I'm actually fueling my workouts with.  It also makes healthy snacking more convenient when all I have to do is reach in the fridge.
As a bonus, think I picked the best time of year to add more plants to my fridge.  So many fruits and veggies are in season that finding a few tasty ingredients to top my salad is easy.  I know all of the additional fiber is helping my body clean out toxins while the vitamins and minerals keep my insides functioning at their peak.  I'm excited to see what eating more plants and less sugar does for my performance as race season approaches.
Meredith
Have you added more plants to your meals?  Are you paleo or vegetarian?  Why?