Marathon training officially started Monday with an easy 20 minute treadmill run. Way to kick it off strong, I know. I took things easy after racing a 5k over the weekend and figured there are plenty of miles to come, why rush. This week features a total of 40 miles with 35 of them at an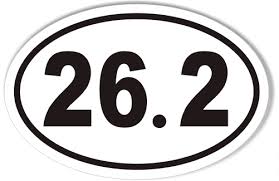 easy pace. I'm enjoying the easy running and hope it stays that way as my mileage increases and the weather deteriorates.
After Monday's easy treadmill session, I dove in Tuesday. A Crossfit workout in the morning, an hour biking with a member of Team ECRP, biking to take care of some errands and a seven mile night jog. Wednesday was a nice easy six mile run and yesterday I kept racking up the miles with 5 easy miles and 5 at marathon pace. Had to earn that Thanksgiving food somehow!
My 16 week plan has me ramping up the miles to peak at 60 per week in January and I am not in a rush to get there. Last year I had fueling troubles and over training issues that I'll be avoiding this time around. Easing into higher mileage is a great opportunity to make sure I'm getting the calories I need. After 6 weeks of base building, I'll step things up with more intense miles for the second half. Because my taper got thrown out of whack due to my overzealous number of 20 milers last year, I'm making sure to do it right this time. My first three week taper into March's One City Marathon is sure to drive me nuts. I'm looking forward to it!
I'm excited to see where I can go with this more ambitious plan. As of right now, a BQ time is definitely reachable and my goal will be 3:28-3:30. Hopefully the winter weather cooperates and my training goes as planned.
Meredith
How do you kick off marathon training? How many miles do you peak with?