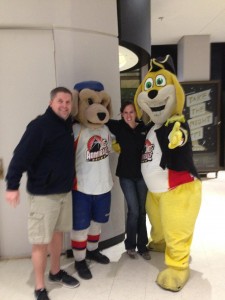 If you have ever attended a sporting event with me, you know I love mascots.  So you can imagine my excitement when Doug and I went to a Norfolk Admirals game Friday night and stepped directly into mascot central.  Before heading to our seats we snapped this photo with Hat Trick and Salty who are both adorable.  The game was fun as usual but the mascots definitely made my night.
While the hockey game was good, my weekend long run was not.  I'm a little over two weeks from my first marathon ever and believe I have entered the marathon training overkill zone.  I had 20+ miles scheduled but my heart and mind weren't in it when I quit at 15 with exhausted legs.  It is the first long run I've bailed on without some serious pain.  And to be honest, I wasn't even disappointed.  I just wanted it to be over.  Desperately.  I'll force myself through hit twenty again next weekend with another week to taper and then look forward, hopefully, to race day.
Even with not so great long runs, the rest of my training has gone really well and my speed work is still good.  My long runs have been getting worse instead of better most likely because I was incredibly over enthusiastic about training for this race and started roughly three weeks before I should have.  Six 20+ mile runs in one training plan, especially for a first time marathoner (no matter how fit), is just a bad idea.  And I knew that when I kicked things off in December but…
I mistakenly thought that breaking the schedule up with January's Back to Back challenge would help keep me fresh.  It didn't.  It might have completely back fired.  My legs are tired.  Deep down muscle tired.  My head and heart are trying to bail on me.  This training overkill makes it pretty appropriate I posted about beating the bad workout blues last week and about getting out of your fitness rut yesterday.  My fueling, sleeping and recovery are good but right now they're not good enough.  The only solution I see is to take a few days off of everything except foam rolling and biking to work then hope for the best.
There's always another marathon if I feel like it.  Luckily, I'm not worried about finishing this one and having to get back after it in the near future.  I know I have the strength, fitness and mental toughness to gut through 26.2+ miles.  Hopefully I'll shake this marathon training overkill in the next few days, get my mind right and head into the last 14 days of my training cycle with a good final long run and solid race on the horizon.
Meredith
Have you ever had training overkill?  How did you solve it?