This past weekend was filled with racing. Volunteering at a race, running a race and getting ready for a race. Friday I spent the afternoon volunteering at the Wicked 10k expo, Saturday I completed my last long-ish run before the Monumental Half and Sunday I raced the Mutt Masquerade 5k.
I wrote about the value of pitching in a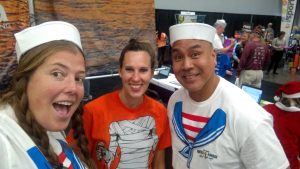 helping at a race last week. My time at the expo Friday did not disappoint. Stationed at t-shirt exchange I saw tons of friends, met new runners and, since the shirts ran small, helped lots of people out. Here I am hanging out with some of my good friends who are J&A Racing Ambassadors.
Saturday morning I ran my last big workout before I tackle state #24, Indiana. The Monumental Half is a fast and flat course I'm feeling halfway prepared for. I'm not in peak shape by any means but my legs are feeling good. My last two long workouts were both very good and I'm looking forward to a solid performance.
Sunday morning the whole house packed up to hit the boardwalk for Virginia Beach SPCA's Mutt Masquerade. A morning filled with adorable dressed up dogs and lots of sunshine, it was lots of fun. My legs were tired from Saturday's finish fast long run and I didn't
have high expectations. After a mile warm up, I lined up in the front pack of runners. I took off, settled in to a comfortable pace for the out and back course and had some fun.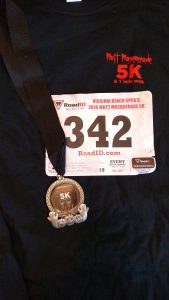 On the outbound side I realized my right shoe was tied too tight (still figuring out the new shoes). My ankle was bothering me and an injury however slight was last on my list. I decided to stop to fix it when I could hear my funky gait on the cement. Passing all of the wagging tails on my return trip really made the race enjoyable. Not one of my best performances after having to tie a shoe midway through, I finished second female overall (22:54) and won my age group.
Meredith
Do you run with your dog? Would you do the Mutt Masquerade?