Saturday morning I ran the Heart of Ghent 10k.  The first 10k I'd run since the same race in 2014 was not-so-good and far from the race I wanted.  After spending the better part of race week fighting stuffed up-ness, low quality sleep and less than idea nutrition, I had no idea what to expect.  I'd never run a race with congestion and completely stopped up sinuses before.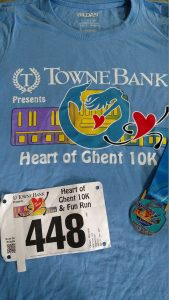 I had wanted to wake up race morning feeling 98%.  Instead my stuffed up-ness had moved load of mucus into my nose, throat and chest leaving me feeling 70%.  The warm (75ish) and humid morning would most certainly be not-so-good for my breathing.  After a breakfast I couldn't taste and warm-up that felt decent, I lined up to start with positive thoughts circling in my head.
Miles 1 and 2 were right where I wanted to be, 6:55 and 6:54.  Then…things fell apart before 5k.  I had to stop around 3.5k to fix a right shoe issue.  Huge mistake.  My heart rate skyrocketed when I started running again.  Without the ability to breathe through my nose I couldn't get it back down and started to feel the lactic acid.  Too early for that, I thought.  I managed to push through 6000M before my brain get the better of me.  With an uncomfortably high heart rate and nothing but snot in my nose it got really hard to find my happy place.  Every time I said I felt good I had to blow my nose into my sleeve.  Kind of kills the moment.
Not-so-good race's second half wasn't much better.  The humidity had decreased but the temperature had risen and my oxygen depleted muscles were getting grumpy.  Over the final 4k I took several walking breaks just to get a deep breath.  Forget the PR, let's not puke!  I grabbed water at 7k to little avail.  I choked badly as the slobber in my throat tried to block it and spent the next few meters hacking up nothing.  Really pleasant.  With 2k to go I settled into a jog and begged for the finish line.  I walked across the line at 50:58 (8:15).  Far from the run I had wanted and worked for all summer, I was pretty neutral about it.  Stuff happens. There's always another race.
On the bright side, my not-so-good race could have been worse.  I'm not injured and it was definitely a learning experience (take it easy when you feel crappy).  In addition to being the first time I raced with congestion, it was the first time I kept my Garmin in kilometers instead of miles.  I really liked it for the distance and am definitely going to do it again at my next 5k.  For now, I'm quickly putting this behind me.  My goal half marathon is a few short days away and I'm really focusing on a strong performance.
Meredith
Have you raced sick or recovering?