Without a training plan to follow since the Surf n Santa, No Schedule Week One of two, no schedule, rest and play weeks has been tons of fun.  I've been enjoying my low pressure cross training workouts, and other than sticking with my Runner's World Streak, haven't been doing much running at all.  Here's how I spent No Schedule, Week One:
Monday – Kept my RW Streak alive with an easy mile and was otherwise on rest duty.  A great way to kick off No Schedule, Week One.
Tuesday – I definitely hadn't left everything out there at the Surf N Santa, and after two days of almost total rest left me with fresh legs, was ready to get moving.  I hopped in with my buddies at North End Crossfit for a tough strength training day that not only went well, but felt awesome, too.  After a day in the gym, I went to a delicious dinner at A.W. Shucks for a little end-of-season eating and drinking that I review here.
Wednesday – Nurse a little hangover from that end-of-season celebration, but kicked it as No Schedule, Week One rolled on with another watch-less easy mile and a half.
Thursday – A busy day at work and mid-morning strength training session started off with yet another lazy one mile jog to keep my RW Streak alive.  After my jaunt, I was happy to see the day's workout included lots of snatch work, which is something I definitely want to improve on.  Even with not very much weight, I felt better about my lifts and my shoulder felt more stable than it has in a while, a big win.  A quiet evening gave me time to finish up The Eighty Dollar Champion, which was a wonderful read.  Stay tuned for my review next week!
Friday – The lazy one and change milers I'd been putting in all week weren't really cutting it.  I did three miles (two easy, one race pace) at lunch and called it a day.  In the evening, Doug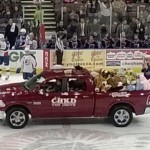 and I attended a Norfolk Admirals game.  It was Toys for Tots night, which meant after the Admirals scored their first goal, all of the attendees were encouraged to donate by throwing stuffed animals on the ice.  The generosity of the fans was great to see, and once all of the stuffed toys had arrived on the ice, they not only piled high in the bed of a big pick-up truck, but filled the backseat, too.  The game was a blast to attend and if you're nearby, check one out!
Saturday (today!) – I thought about a five mile run, but after seeing the day's workout, I chose to hit the gym instead.  The morning's gym session called for 2,000M of sandbag carry runs intertwined with man-makers, pull-ups, weighted sit-ups and box jumps that helped me keep my RW Streak alive, and work up a good sweat.  The sandbag runs reminded me that a few easy weeks won't be the detriment to my Spring Training I'm afraid they'll be and I wrapped up No Schedule, Week One feeling great.
Sunday – Total rest day.  And lots of NFL action.  Let's go, Birds!
No Schedule, Week One was a big success and I'm looking forward to Week Two before a tough 12 week training schedule leads up to the Shamrock in March.
Meredith
What do you do when you don't have a training schedule to follow?