This is No Schedule, Week Two and Christmas is right around the corner.  Before I get to Christmas, a few exciting things are going to happen in the world of FitNiceRunner.  With no training plan this week, I've been keeping my Runner's World Streak up but not really running and had a great strength training workout yesterday.  I also wrapped up my Run Chat Holiday to Holiday Hunt by snapping photos of a local coffee shop, a railroad crossing and animals on a farm.  Check out everything I found in this album, and Like my Facebook page while you're there!  Today was a nice little two miler, and even though it's technically No Schedule, Week Two, tomorrow I have something brand new planned.
The brand new, next exciting thing before Christmas is tomorrow at 6am.  I'll be diving in to experience spinning with Virginia Beach's Tidal Wheel and can't wait.  I don't spin often, but they offer a full body workout that I've heard great things about and, since I'm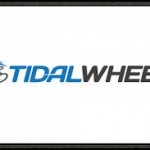 schedule-less, it's perfect timing.  Spinning is an awesome cross training workout and I love trying new things, although the main reason I'm taking class is because it's part of a piece I'm writing for the FitNicePT Blog.  Lots of runners want to stay out of nasty weather during the winter but worry about losing fitness, myself included.  FitNicePT understands that, and I whole heartedly supports spinning as an alternative to winter running.  It's not a good idea to replace all weekly miles with a few rounds on the bike, but it's a good leg workout and will definitely keep my cardiovascular system pumping during No Schedule, Week Two.
Next on my list is Friday's review of my Tidal Wheel experience (it'll be right here) and a Saturday Holiday Party.  Sunday wraps up No Schedule, Week Two with a rest day, but also kicks off one of the last two exciting things I have happening before Christmas hits.  At 0:dark:30 Sunday morning, Doug and I will be making our way to California for the holiday.  It'll be nice to get out of town for a few days and see his family, and even though it hasn't been bad here in VB, the warmer weather will be just fine with me.  Once arriving in California Sunday afternoon, I'll have the most exciting non-Holiday related event of my Holiday Season happen sometime Monday.  Adios, No Schedule, Week Two, it's time for SHAMROCK TRAINING!
I'll be starting my Shamrock, sub 1:40:00 goal, training in the great state of California Monday.  While these two weeks of training plan free workout fun have been great, I'm ready to get started.  My goal time doesn't take much off of my current PR pace, but does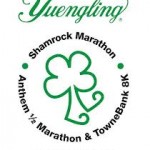 require I run a smart, turn hugging, traffic avoiding race.  Rather than trusting myself to run an immaculate line over the Shamrock course, I plan on saving myself the trouble by getting faster.  I'll ease into some really tough weeks with a nice 45 minute not quite tempo run on Monday, then really hammer my speed work and stretch my long runs over the next 12 weeks.  Bring it on.
Stay tuned for my review of Tidal Wheel fun on Friday, then look for me to gush about my first Shamrock training run all the way from California on Monday.
Meredith
When do you start training for your spring races?  Are you excited?