Saturday I continued my year of 5ks with the OK5K to benefit Eggleston Services.  It's a great program I was happy to support, especially when the rain held off.  Without the rain it was a little bit humid but nothing I don't need to adjust to anyway so bring it on.  The race started at 8:45 and I did a solid warm up starting around 8:15.
I felt pretty good in spite of not resting at all prior to race day.  Coming off a week of light mileage I wasn't too concerned about fatigue and my legs did feel a little better than they did six days earlier at the Steel Pier 5k.  The OK5K started just about on time, one minute after Team Hoyt, and I went out a bit faster than I wanted to.  After the first half mile I settled down into a comfortable but not pushing it pace.  I had passed several runners when my legs started to feel grumpy approaching the 2 mile mark.  Having slowly started to figure out this 5k racing thing, I knew I was right on track getting uneasy with a mile to go.  Even though I wasn't in a position to give it my best go, I put together a solid finish and came through the finish feeling good.  It was surprising to see the official clock read 20:51 since I had most surely not been running at PR pace.  I realized what happened when I took a look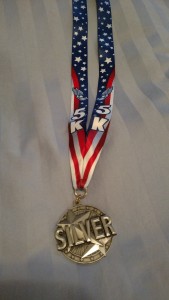 down at my watch and it read 2.96 miles.  Maintaining my pace through another 200M would definitely have been possible but my official race time was 20:51 (second overall female) and would have been 21:55ish had I run a full OK5K.  Even though it wasn't a full 5k, I felt good about my run, improving on the previous week's race pace.
After a rest day Sunday, I'm back to hard work this week with lots of miles but no 5k race.  I started Monday with mile repeats that were pretty ugly citing some bad hydration issues.  Having a cruddy workout wasn't entirely unexpected and I bounced back with a solid strength workout yesterday.  I know the rest of this week's sessions on the track, road and gym will be solid, too.
Meredith
How do you decide if a race was good or bad?