Saturday I ran the Polar Plunge 4 Miler. It's part of the Virginia Beach Polar Plunge to benefit Special Olympics and always a good time. The morning features 4 mile and 1 mile races with an option to jump in an above ground pool afterwards while the afternoon is 100% plunge time. Thousands of people dress up, party hard and dive head first into the chilly ocean. I am not one of them. The dryer and warmer the better for me.
I woke up and was really motivated to run. Even though it was a scheduled day off, my legs felt good and I was ready for some nice easy miles. Since the start was only 1.5 miles from, I suited up for the (feels like) 19 degree morning with 16 mile an hour winds and jogged down to packet pick-up. The wind was strong out of the north and I knew I'd be running those last two Polar Plunge miles right into it.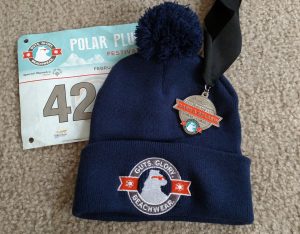 After stretching out a bit, I made for the start. The sturdy tailwind made for a quicker than intended first mile. Mile 2 was also a bit faster than desired but I knew the headwind wouldn't help on the way back. I hit the halfway mark in 14:52.
The monstrous headwind slowed me down as expected after the out-and-back course's turnaround. Miles 3 and 4 were inconsistent with the gutsy wind but I kept my feet moving. I crossed the finish line at 31:44. My pace had averaged right where I wanted though my splits weren't even close. I finished second female over all, receiving a race medal and Polar Plunge Beachwear hat as my award. It was a fun race at a new and different distance. My morning wrapped up with a cool down jog home.
Now I'm in my last big week of marathon training. There are five weeks to go before I toe the One City line and I'm looking forward to it. A full load this week lightens up next then leads right into taper time (eek!). I'm running more miles each week than ever before and am slightly concerned about going taper crazy. Hopefully between now and then I'll figure out something to do with all that extra time!
Meredith
Have you ever done a Polar Plunge? How do you prep for taper?