Not every run is a challenge but the same things always feel good afterwards. A cold glass of water, even in the winter, taking my sweaty socks off and hitting the floor for a few post run yoga poses. There are a ton of poses out there but not all of them stretch out those hard working running muscles in my legs and hips. Here are some of my favorites:
Child's Pose
: This pose gives my whole body a break and lets me hit the ground with a little bit of grace. It gives my hard working core a chance to relax while releasing my lower back and stretching my feet.
Downward Facing Dog: After a minute in child's pose, it's into down dog. Even if I just jogged a nice recovery run, lengthening my hamstrings and chronically tight calves always feels great. It's also a good pose with lots of room for the lunges to open and close. It helps me bring my heart and respiratory rates down with big deep breaths.
Pigeon: This big hip opener is another chance to give my just worked legs a break. Stretching out my glutes and hip flexors is important for making sure I stay loose for my next workout, whether it's later that day or 24 hours away.
Low Lunge: Another awesome hip stretch, low lunge might be tops on my list. I love reaching back to open my hip while taking big belly breaths.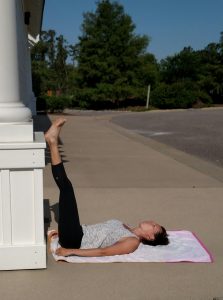 Legs on the Wall: I'm not sure if this really counts as one of my 'yoga poses'. My legs are propped up on a wall and I'm totally relaxed. I'll use time in this pose to reflect on the workout I just had.
I use a different variety of poses for my morning and pre-run routines. While my pre-run sessions gets me loose and the blood pumping, these post run yoga poses help me relax and regroup after a workout.
Meredith
Do you have favorite post run yoga poses? Which ones and why?