I am ready for marathon training to start next week. It's been a while since I've run lots of miles or worked really hard more than once in a week. For the first time in a long time I'm looking forward to tired legs that I know are getting
stronger. Since my goal race debacle training has been inconsistent and actually stressful. At the moment I almost feel a little taper crazy and I haven't even been tapering!
So let's bring on the miles. I want to go for a run when I feel like it, not make myself stay put because I'm on a breather week or looking to hit a 5k hard this weekend (which I am). I miss just going out and doing something. Maybe it's a run, 50 box jumps or an extra leg added to my bike commute but I've been keeping myself away from those things and it's starting to be a bummer. Logging lots of easy miles and having fun will be the priority for my first few weeks.
The marathon training plan I've laid out is more flexible than last year but also more ambitious. My peak weekly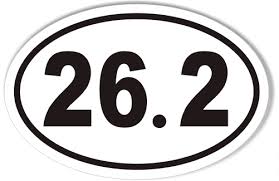 mileage is higher than last year's at around 65. I'll also be focusing more on taking my recovery runs at a slower pace and making sure my important workouts each week are very high quality.
This down time craziness wraps up with the Norfolk Harbor 5k tomorrow. I was third overall female last year but with my lack of concentration lately have no idea how it's going to go this time around. It will be fun knowing marathon things kick off Monday with a 40 mile week. I can't wait to be on a predictable marathon training schedule again!
Meredith
Do you get excited for marathon training? What's your favorite part?