I checked off State #20, Minnesota, with July 4th's Red White and Boom Half Marathon in Minneapolis.  It was my first visit to the city and I really had a good time.  This was a check-in race with no goal other than to push it a little bit here and there while having a good time.  After receiving an email with a heat warning Doug, who was running the 5k, and I were greatly relieved to see it was issued for a morning expected to be 64 degrees and 75% humid.  Temperatures 10-25 degrees below our current normal running weather were a welcome sight.  The humidity would be easy to handle and I knew I could stick with my plan.
We arrived mid-morning on Sunday and went straight to the hotel gym for a shakeout session before checking out the Twins at Target Field.  The city was quiet, clean, friendly and had a park full of fun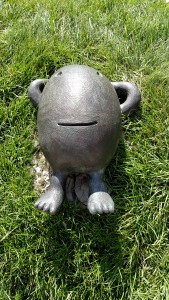 characters to hang with.  After the game we had dinner at the hotel and hit the hay early.  Race start was 6:30 local time so it was nice to get up at what felt like a regular weekend time (7:30) to go for a run.  I downed a plain bagel and water breakfast then walked the short distance to race day packet pick-up.
The cool-ish morning was indeed humid but nothing unmanageable.  I quickly and easily nabbed my packet, checked my gear and set off for a warm up.  After my mile, I knew Red White and Boom would be the big improvement over last year's summer half in Chicago I expected.  The weather was better, my training was more on track and I felt positive about it.
The start corrals were fairly crowded on a narrow road but after a solid national anthem for America's birthday we were off right on time.  Things stayed traffic filled for a few minutes and around the 2k mark I started wondering when it would loosen up.  The course started to loosen in to the Mile 3 mark and by 8k there was plenty of running room for the rest of the race.  At that point I was glad to be able to take tangents and play with my pacing more after walking through a water stop around Mile 5.
I expected a climb before Mile 6 that had been on the course map but I didn't notice anything too serious before 10k.  There were a few short, steep climbs and some longer slow ones but as a whole the race didn't feel very hilly when I was on it.  Apparently it was because my Garmin told me I picked up 300 feet of elevation gain over the Red White and Boom Half Marathon.  In spite of the hills a large portion of the course was covered with shade and very peaceful.  I spent most of the race's first half telling myself to slow down without actually doing it.  I tired to use uphills to really back off and was somewhat successful at doing that.  I wanted to come in somewhere between 1:40 and 1:45, more towards the latter, without leaving too much out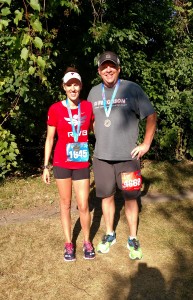 there.  I hit the Mile 10 timer at 1:18+ knowing I was about a minute behind the official clock.  Perfect!
My legs were feeling good and my time was right around where I wanted to be, if not a bit fast.  My skin, however, was not so hot.  Around Mile 9 I had started to notice a less than lovely feeling around the chest band of my sports bra.  By the time I found medical at Mile 10, I was having some serious chaffing action and since I wasn't in any kind of hurry stopped to get some tape.  After struggling to find the end of the roll, I stuck on a big strip and took off for the final Red, White and Boom 5k about 90 seconds later.  A few more slightly rolling hills sent me through the final water stop past Mile 11 then into an easy long down hill finish across Stone Arch Bridge.
I finished in 1:43.37 feeling good.  I ran for the most part right on plan and hit my goal range in spite of walking through three water stops and taking a 90 second break to tape myself up.  The race had great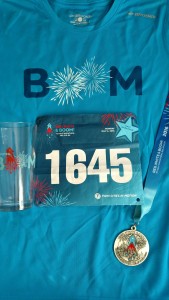 swag including logoed pint glasses and Brooks brand tech t-shirts at packet pick-up for all runners then nice Red, White and Boom finisher medals along with red, white and blue ice pops, bottled water, chocolate milk, snacks and Cliff Bars in the finisher chute.
The race left me feeling really good about where my training is heading into the end of my base phase.  It was a solid run at a great event on a humid morning with more hills than I'll face for a while.  If you have the chance to tackle the Red White and Boom Half Marathon, I'd take it!
Meredith