It's time for the May edition of Right Now!  This is my second post in this category and as promised, I'm covering three new topics.  I'm doing something new for recovery, booked a trip and visited a local art museum.  Here's how I feel about each of them: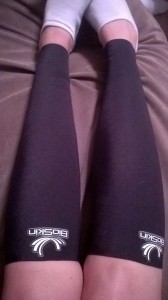 Recovery:  One of my 2014 running goals was to get better at recovering from long runs, races and every training session.  In my efforts to accomplish this, I accepted an invitation to the BioSkin ambassador program and received a complimentary pair of Calf Skins.  I've used compression capri tights, but never used compression socks during or after I run, and want to give them an honest try before reviewing them.  I'm still in the process of playing with my run/post-run routine and it's been really hot (100% humidity for last week's 14 miler!).  I haven't wanted to run with any extra clothing on due to that, so I've used to Skins exclusively for recovery.  When it cools off a bit, I'll go for a run in them and soon after, fill you in on everything Calf Skin!
Booked:  My trip to Vegas for the Rock n Roll Las Vegas Half Marathon.  I'm excited for the trip and since it's not a target, PR attempt race, the race's notoriously huge field shouldn't bother me.  Hopefully I'll be able to start from the first or second corral to give me even more running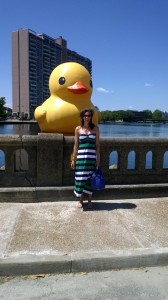 room on the flat course that wraps up with a run down the Strip while it's all lit up.  I've heard good things (other than the large number of participants) from friends who have participated in the past and the 4:30pm Start Time, though unusual, makes this event special.  Nevada will be the 8th State checked off on my Run 50 States + DC Map, and I'm ready to keep plugging away at the list.
Visited:  The Duck.  This giant rubber duck is not only adorable, it's world-famous and guaranteed to make you smile.  Stationed in Norfolk for the week, Florentijn Hofman's Rubber Duck helps celebrate the re-opening of the Chrysler Museum of Art with its second appearance in the United States.  The Chrysler recently underwent a $24 million renovation and since I wanted to see it, the Duck seemed like the perfect reason to head over.  I hadn't been to the old building, so I have nothing to compare it to, but it was great.  With free admission everyday, the Museum is home to a wide variety of exhibits and beautiful artwork as well as a glass blowing studio where you can let your creative juices flow.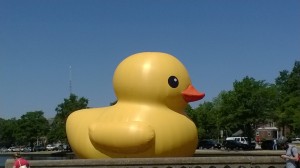 Meredith
Do you use compression for recovery?  What's your 2014 destination race?  Does the duck make you smile, too?