There are only a few hours left in March and that makes it past time I update with March 2015 Edition of Right Now.  Here are a few of my favorite things as the year's third month draws to a close, including some solid running, rewarding coaching and good reading.
Running:  My Prairie Fire training has been going very well.  Rock n Roll DC was a great run,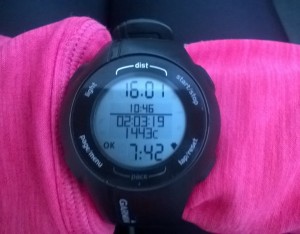 Shamrock was a blast and even though my first 16 miler of the year yesterday was colder than I had hoped at 'feels like' 26 degrees with some chilly 10-15 mile-an-hour winds, it was a fantastic run.  The wind wasn't as bad as I expected it to be and I settled into a comfortable pace that left me quite happy.  You can check out all of my latest thoughts on my goal spring race here.
Coaching:  I have been working with a friend of mine from college who lives in the nice, sunny warmth of Tampa for a few short months.  She doesn't know I'm writing about her, so this lovely lady will remain anonymous today, but I am very proud of her.  One of the best things about coaching is being a part of someone's journey to reach their goal, no matter what it is.  This client wanted to shed some unwanted pounds, tone up and run a faster 5k.  Since the beginning of the year, she has successfully finished multiple 5ks, her first 8k, her first 15k and her first 10 miler.  Watching people fall in love with running i
s another coaching bonus!  She's looking forward to a RunDisney event soon and I'm excited to be a part of her journey.
Reading:  I love Game of Thrones.  It's a wonderful show but, as usual, the books eclipse the film.  Because George R.R. Martin is in no hurry to release the next installment in A Song of Ice and Fire, I took the dive into his 300+ page tome, The World of Ice and Fire.  It's loaded with background information on the various houses of Westeros and even though it has difficult moments (hello, family trees!), the story is worth every second.  It's a must read for any fan.
Meredith
What are your favorites from the last few months?  Are you involved with any coaching?