RnR Las Vegas was hands down the hardest training run I've ever completed.  I've run longer, I've run harder in more heat, more wind, ice and snow but this was a disaster.  To catch up on what happened before the race began, and quite possibly played a role in my mess of a race, check out RnR Las Vegas Part I here.
I got a solid nine hours of sleep Saturday night but when Race Morning d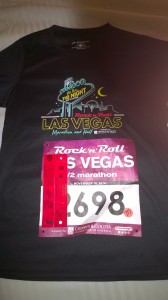 awned, I knew it hadn't been enough to make up for Friday night's lack.  With two nights before a race being the most important, I scrapped my start slow plan before I even climbed out of bed.  I just wanted to run with Meb.  After I got out of bed, I even questioned that.  My legs felt terrible and I could tell I just didn't have it. The day was sunny and cool, meaning the weather for the race would be great.  I was definitely looking forward to that.  What I wasn't looking forward to were the nine hours before race time.  My Race Day routine wasn't possible with the Rock n Roll Las Vegas beginning at 4:30pm and that didn't help my legs feel any better.
As those nine hours crept by, Mom and I did some shopping at the Grand Canal Shops, ate lunch and suffered through the first half of an atrocious Eagles game.  My hydration and fueling strategies were non-existent but I wasn't concerned because I didn't plan on 'racing'.  Around 3:15, I put an E2 in 16 ounces of Las Vegas tap water and drank it dry just before heading to the Start.  Immediately I knew it was a mistake.  When I travel I typically stick to bottled water. Changing can upset my digestive system and it takes me a day or two to adjust.  I had been doing a good job for this trip until that moment.  The water tasted funny and I knew I'd need to use the restroom before running 13+ miles.  No worries, there would be plenty to use at the starting area.
Getting to those Port-a-Potties was an entirely different issue. The walk should only have taken 25 minutes but with huge crowds and a much further than expected distance to go, it took close to 45. My mom and I had begun the walk together but after realizing how much further I had to go, I took off at a jog, leaving my phone and any chance at Start Line photos behind me while she went to find a place to cheer from.  I continued moving towards the Start for what seemed like forever.  Eventually I did find and use one of the many Port-A-Potties near the back of Corral 48 and just as I entered, Corral 1 was released.  At that moment I stopped to retie my shoes and knew I wasn't going to make it to my desired Meb Corral between 6 and 7.  I simply put the pedal to the metal and power walked, dodged and excused my way as far forward as I could. During this process my entire plan for the race changed.  There was no way I would be able to catch the 1:45 group starting so far behind them and with my legs feeling pretty crappy already, I just wanted to get in a solid training run.
By the time I made it to the front, I was crossing the RnR Las Vegas Starting Line with Corral 11.  I asked around the crowd and found out it was a 2 hour finish time Corral, less than ideal but it certainly could have been worse.  Mile 1 was full of traffic and about 30 seconds slower than I wanted.  After that things opened up at bit to give me some running room as I passed my cheering Mom at Mile 2.  The next six miles were pretty steady with traffic, making it hard to clock consistent half mile splits but I had some fun chatting with other runners, thanking volunteers and the LVPD and smiling for the race photographers.  I hit 5k in a leisurely 26:03, 10k at a better pace in 51:21 and was feeling pretty good after grabbing some water just before Mile 6.  While that second dose of Las Vegas water didn't tip my system over the edge, the water stop at Mile 9 spelled the end for me.
As soon as I drank that water, I knew things were going to take a turn for the worse.  It tasted funny, immediately turning my stomach.  I couldn't find a Port-a-Potty fast enough and when I finally did, it wasn't pretty.  Officially dehydrated, I took off again to feet that were starting to cramp and a course filled with water that wasn't going to help much.  Next to go were my glutes and hamstrings.  Never, ever during a run has my posterior chain gotten such a good workout.  Every muscle down the back of my body below my hips was screaming.  My knees and IT bands hurt with every step and I took some walking breaks.  Every mile seemed like to took forever.  I was in more pain than I have ever been in during any run in my life.  I had ceased caring about my long run, training and finish time while I was inside that portable restroom and just wanted to make across the line without any serious injuries.
I struggled through the final 5k to finish 13.27 miles in 1:59.36.  I've had bad races before, and I'm sure I'll have one again, but this was awful. Everything below and including my abs hurt as I picked up my playing card inspired medal, immediately downed an entire bottle of water and grabbed pretzels, chocolate milk, Powerbars and a heat sheet.  My knees hadn't felt like that in a long, long time.  My posterior chain was sore, aching and altogether upset.  I needed a foot massage and couldn't get to my compression soon enough.  Unfortunately in the mass of people at the Finish, I missed my mom and we didn't meet up again until we were both back at our room, which is why I don't have any finish line photos either.
In the end, the first eight miles of my RnR Las Vegas long run were very good and the last five were terrible.  It was a big learning experience and looking back, I'm actually glad I had to fight through it.  The ample support on the course, from water stops to Port-a-Potties, was great and the run through the lights was special in spite of being too busy looking at the people around me, trying not to run into them, over them and get in their way to really take in the scenery.  What I did see was pretty cool and the flat course definitely has the potential to be fast. Had I felt better, not been in a panic at the beginning and had fresher legs, I'm sure it would have been a much more enjoyable experience.
Would I run RnR Las Vegas again?  Absolutely.  I have a lot of ground to cover first (42 more states) but I'm not counting it out.  If you have the chance, I recommend giving this race a shot.  Just be sure to worry more about taking in the scenes than the people around you.
Meredith
Have you run RnR Las Vegas?  Would you?  Why or why not?