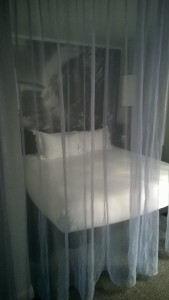 Rock n Roll DC was my second race of 2015 and in spite of the rain and some killer hills, I was happy to turn in a good performance.   Doug ran this one, too, and both us and the entire Twittersphere spent the week prior dreading Saturday morning's weather.  Even though I knew the weather wouldn't be perfect, I was looking forward to getting out there and seeing how my training was paying off.  Rock n Roll DC weekend kicked off with a mid-morning road trip from Virginia Beach to Washington, DC.
Doug and I stayed at Hotel Helix.  Within walking distance of both the expo and Start line, it's pet friendly, clean, modern and even though the elevators were a bit slow, the complementary wine hour (we missed it) was a nice touch.  We settled into our room then cruised over to the expo.  It was not as crowded as I had worried and we breezed right through packet pick-up.  I had earned Expo Cash through a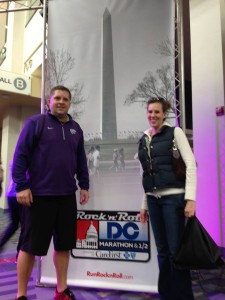 referral link, which was a nice way for Competitor Group to say 'thanks', and used it to buy a Rock n Roll DC magnet that matches the one I nabbed in Savannah.  Next up we stopped at High Velocity Sports Bar for some Friday afternoon relaxation then it was back to the room for some college basketball and pre-race pizza.
Race morning dawned gloomy.  No surprise but it was kind enough to subside to an intermittent drizzle while we trekked a mile and change to the Start.  I had to go past Corral 2 for a while to get to the Port-a-Potties where Doug and I separated then even further to the M-O last name truck (#15!). As I made my way back towards my corral, I realized I will never understand why RnR doesn't do gear check by numbers.  All of the extra walking drives me crazy.  The drizzle dried up while I ran as 1200M warm-up and settled into my corral for the National Anthem.  The Start went off right on time, unlike in Arizona, and I went out for my training run.
A little weaving in Mile 1 was expected and I had planned on running a fairly loose line for the entire race, picking up some extra mileage when I could.  The course turned through the city and as we came up to a bridge spanning the Potomac, it was neat to see the leaders returning in the opposite direction.  A light, constant rain started again around Mile 2 and there were some minor hills as I cruised through Mile 4 feeling good.  I noticed as the Mile 5 marker appeared that my shoes were officially soaked and avoiding puddles was now pointless.  Crossing into Mile 5, I noticed I was approaching the 3:10 marathon pacer.  Uh-oh, I thought, slow down.  I didn't mentally feel ready to PR, especially knowing there were some tough spots coming but my body felt great.  I thought a PR would be great, but wasn't going to push things and kept moving along at a 7:15 pace.
Then we hit Calvert Hill at Mile 6.  As the long, steep climb began I was moving right along with short, quick steps at a slower but consistent pace.  About halfway up, I felt a my foot start to slide around in my 100% saturated shoes and knew a nasty blister was on its way.  I pulled over and retied my left shoe before finishing the tough climb and rolling on.  I was very happy to be on flat ground at the 10k mark and glad to know the toughest hill was behind me.  The course continued over a few more rolling hills through Miles 7 and 8.  I strolled through a water stop at Mile 9 and noticed my watch.  I was roughly 25 seconds behind my PR pace.  A few more gentle hills and I just kept cruising.  A PR would be great on a challenging course in heavy, wet shoes, but I wasn't too worried about it.
Comparatively, Miles 10 and 11 were pretty flat.  A slow climb welcomed Rock n Roll DC runners to Mile 12 before a nice easy downhill trip to the Finish line.  I missed my PR by 32 seconds, running a 1:37.56 on a difficult course in bad weather.  I have never been so happy to not hit a PR.  With a 10M stroll through a water stop, a shoelace problem and super heavy shoes, Rock n Roll DC's finish left me feeling ready to rock at Prairie Fire in May.  Walking through the finish chute, I collected my medal, bottled water, PowerBar, pretzels, chocolate milk, skipped the chips and Gatorade then made for my dry clothes at Truck #15.
It was only when I stopped running I noticed how awful the weather had become.  It was raining harder than it had all morning and I swear it was colder.  My core temperature dropped and fingers went numb before I even got to my gear.  Huddled under the metro bridge with a few hundred other suffering runners, I changed into dry tops, socks and shoes.  The socks and shoes ended up being pointless but it was nice to have dry feet for even just a minute while I waited for Doug.  I was glad I had signed up for runner tracking and knew I had some time to stay dry hanging out under cover before heading to meet him at the Finish.  As his expected finish time approached, I made my way back out into the rain to stand near the chute.  My hands were still numb but I could hear the text alert when he crossed the line and I was very happy to be that much closer to a warm shower.
Except we weren't.  We had to wait in a big crowd, in the rain, to even enter the metro station.  The mass of bodies was warm, however.  Then there was a lengthy line to buy a metro card (note: definitely do this in advance) and another one to get on a train.  We could have driven and bought parking passes in advance through Rock n Roll but figured mass transit would be cheaper.  Anyway, at least it wasn't raining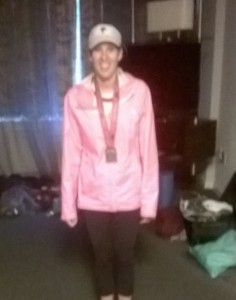 in there.  When we finally got on the train it was nice to sit down, get a little blood moving back into my fingers and chat with our fellow Rock n Roll DC finishers.  We finally arrived back at our hotel around noon for hot showers, snacks, Jordy walking and foam rolling before getting on the road for home.
Rock n Roll DC was wet and cold.  I didn't notice as many bands on the course as usual but Competitor Group did another good job.  It was also a great training run and left me feeling very positive about the direction my Prairie Fire training is taking.  I'll be pacing Shamrock next weekend then getting into a few more hard long runs before a late April taper.
Meredith
Are you running Shamrock?  How do you deal with bad weather races?