Rock n Roll Nashville is also known as the Country Music Marathon and, to date, its 15th running was one of my favorite race experiences.  It came on the second morning of my 2014 Road Trip to Nashville, the rest of which you can read about here.  I was excited for the race, which was really going to be my weekly long run, and a training outing, rather than a leg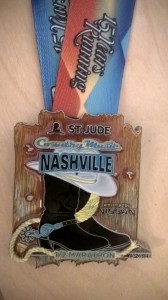 exhausting race effort after my PRs at the Shamrock and in Atlantic City.
A 5am wake up call got the day rolling, and I dressed in my Lululemon running tights, a bright orange tank top, the half zip, long sleeve top my number was pinned to, my Feetures race day socks and my good old runners while drinking down my race morning GPS E2.  Lauren's mom met us at the house, and Doug drove us as close as he could to the Start.  The morning wasn't quite as cool as I had expected when I walked out the front door, but I prefer being warm to being cold, so I left my outer layer on.  I thought about taking it off just before Doug dropped us off at 6:10, but we were rushed out of the car and my opportunity evaporated.
The race was scheduled to begin at 7am, and our 6:15 arrival to the Start area meant we had plenty of time to relax, snap a photo and use the restrooms.  There were two large banks of Port-a-Potties right near us, and we made for the line.  The potties were facing the street, and we could see the 5K start line roughly 300 meters away.  The 5K started at 6:45, 15 minutes before the half and full, and while we waited in line, along with hundreds of others, a police officer rode by on his motorcycle telling us we needed to get off the race course.  What?  There was a general sense of 'yeah, right' and 'hahaha' from the crowd as no one was about to give up their spot.  We were in and out of there before it became a serious problem, but this was a case of pretty poor planning.
A leisurely walk to the Start and we each went to our own Corral.  I walked towards Corral 2, which I moved up to so I could get away from traffic, and did a few jump squats to wake my muscles up one last time.  I chatted with runners around me, listened to the Nation Anthem and noticed that the first gun sounded at 7:01.  I was off just past 7:02 on the course's lovely downhill start, but quickly forgot the pleasure as I continued into a series of hills that made me wonder how my quads would feel in a few miles.  Just past the Mile 1 mark, we ran through the bowels of the Music City Center and my watch lost GPS signal.  Great.  I wanted to run an extra three tenths of a mile, but not more than that, as I needed 13.40 miles to complete my weekly mileage.  Popping out on the other side, my signal restored and I started to get into a groove.  My legs were still shaking off both the car ride and a lot of walking on Friday, and I could feel a little lactic acid build up (uh-oh) that luckily dissipated halfway through Mile 2.  By Mile 3, I actually started to feel good, then almost immediately, I started to get hot.
Temperatures rose much more quickly than I had expected as the sun climbed, and coming to the 5k mark, I debated whether or not I should power through the next 10 miles with it on, or, since this wasn't really a race, just pull over, take it off and move my number to my tank top.  Fear of heat stroke won, and I stepped to the course's side to take care of it.  Short breather, I tied my long sleeve top around my waist and hopped back onto the Rock n Roll Nashville race course.  There wasn't a timer at the 5K mark I could see (officially 24:37), but I knew the time on my watch was right, even if I had to add 0.1 to how far it told me I had gone, and I was happy with my slower pace, especially accounting for my stop.  Only a training run, and a hot, hill filled one at that, I was content to take things easy.
The next 10 miles were full of rolling hills and fun.  I have to admit, I didn't pay much attention to the Mile marks as I passed them, which was unusual for me (running is fun!).  I did, however, take note of the rolling hills that made me groan a few times.  My legs had settled in and felt good powering through them as I maintained my training pace after the 5K mark.  Coming to the peak of a quad burning quarter mile climb, however gentle, to see another one coming right up behind it became common through Miles 4, 5 and 6 and made me glad my strength training was paying off.
At the 10K mark, I again couldn't see a timer, but my watch read 6.15 miles (which I added my 0.10 to and officially crossed at 48:41).  I had picked up the pace a tiny bit from the 5K mark, and in spite of not knowing what the second half of the Rock n Roll Nashville course had in store for me, picked it up more at the halfway point.  I knew, no matter what, I was going to survive, and just kept reminding myself to have fun and enjoy my destination long, training run.
I ran through a mister past the Mile 8 mark, which felt amazing, and noticed my watch read 8.06 miles (8.16 really).  Another mister at Mile 10 was exactly the thing I needed to keep my run on track, and when I crossed it officially at 1:17:16 with 10.08 (10.18) on my watch, I took the race's remaining turns wide.  At Mile 11, I stopped for water and a calf stretch (thanks, hills), it was only a training run, and I didn't see any reason to fight through any sort of pain and risk an injury, however slight.  The second half of the Rock n Roll Nashville course was much more neighborly than the first, and I knew I had definitely run a negative split when I saw the Mile 13 flag.  A right turn and downhill Finish, I  crossed the line, officially and by my watch, at 1:41:19 and 13.21 (13.31) on its face.  I jogged a cool down minute to get that 13.40 and called it a day.
I was very happy with my weekly long run, especially on the hilly course and had one of my most fun races to date.  Each mile featured a band, as usual with Rock n Roll races, and I'd say 10 of the 13 were playing something with a least a hint of country in its sound.  I can't recall whether it was at Mile 2 or Mile 3, but that band had a female lead singer and was blasting out Ready to Run by the Dixie Chicks, which I thought was pretty dead on with 10+ miles to go.  Other course support, including police, water station staff, cheering fans and boomboxes sounding out Eye of the Tiger was wonderful for all 13.1 miles.  Had I been racing, the lack of timers at the 5K, 10K and 10 mile marks might have bothered me, but this time I was OK with it.  By the end of my long training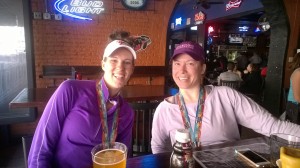 run, I had side-fived a group of Boy Scouts, without missing one (!), cheered a few fellow Phillies fans, sung along with the bands to the best of my ability, stayed relaxed and actually had an altogether good time, all of which made for a fantastic race.
Walking through the Finisher chute, I received the usual overload of Rock n Roll goodies, including a very heavy medal.  As Doug and I walked to Broadway Brewhouse, we stopped so I could return my long sleeve top to my now chilly, sweaty body and slide on a light, unrestrictive pair of flip flops.  When we resumed walking, that well built medal was banging against my chest so hard, I took it off and looped it through my backpack.  Lauren met us there after her Finish, and we celebrated a pair of good runs.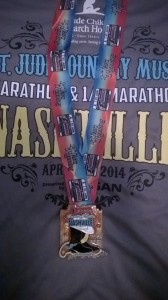 Then it was off to lunch at Rock Bottom and afternoon naps.  Wanting to avoid the evening mayhem on Broadway, the three of us went to the new, trendy Gulch area and selected The Pub for our celebratory meal.  A fun atmosphere, The Pub serves English food and has a huge bar that's home to a wide selection of drinks, including my favorite bourbon, Bulleit.  Our server, Morgan, was adorable and helpful, and each of us thoroughly enjoyed our meal and, of course, our cheese cake and cookie sundaes.  Honestly, what would a celebration be without ice cream!
With a completely successful day in the books for both runners and support team members, or member, we made for our rental and hit the hay ready to sleep in on Sunday morning.  Rock n Roll Nashville was an entertaining and enjoyable experience I'd love to repeat in the future, especially if I get to eat at The Pub again.
Meredith
Have you run the Rock n Roll Nashville?  Are you looking to in the future?