Rock the Parkway was the second race in my Month of Racing.  With it I knocked off Missouri for state #19 and officially started my new training cycle.  I flew out with plenty of time to adjust afterwards feeling ready to rock this first long training run.  My plan was to run easy, maybe hang with the 1:45 pacer and have some fun.
After visiting the excellent World War I museum on Thursday, I picked up my number, timing chip and tech shirt at the small expo.  I really liked not having a bunch of things I didn't want thrust upon me by a well meaning sponsor.  Friday was a day of relaxing except for hunting down more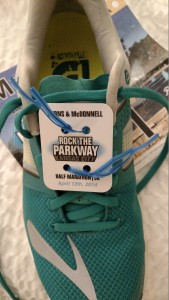 clothing.  My race plan before leaving home was good.  My packing was not.  The weather forecast prior to flying out claimed temperatures would be in the low 50s for race time.  Friday morning the report had changed to let me know Rock the Parkway would be starting with temps closer to 25.  That sent me on a hunt for long tights that ended in picky shopper failure.  I opted for some stockings even though it would be the first time I ever wore them with capri tights and my compression socks.
After the shopping I might have enjoyed a few too many cocktails with my big dinner but slept decently until my race day wake up call.  I felt pretty good pulling on layers, lashing my timing chip to my shoe, downing a bunch of water and a buttered bagel before heading out into the cold.  A short drive away was plenty of free race parking where I stayed on the heated front seat for about 15 minutes.  At 7am it was an easy walk to the staging area for the race's 7:30 start time.  A good band was playing and there were lots of Port-a-Potties lined up.  The people lined up, however, were a mess.  It was it was pretty much the most polite free-for-all I'd ever been a part of and somehow I managed to get in and out quickly.
I stretched out a little, planning to use the first mile as my warm up, then weaseled my way into the packed corral for Wave A.  We went off right on time when I noticed no national anthem had been played.  Oh, well.  That first warm-up mile was a bit crowded and after it I had to stop to tighten my shoe laces.  Running room increased after that as the roads went from two lanes wide to four.  It was after climbing the first of many gentle hills through Mile 2 I realized I had definitely had too many cocktails Friday evening.  My legs felt great after my off season.  The rest of me, mediocre at best.
Essentially an out-and-back affair, Rock the Parkway covers a scenic course that climbs for the first few miles, levels out in the middle (mostly) and finishes downhill.  We definitely climbed through the first 5k but the rolling hills didn't seem too bad.  Things leveled out a bit around Mile 3 as I walked through each of the well stocked, well staffed water stops knowing I needed the fluid.  Mile 5 was my favorite because the whole neighborhood got involved.  There was a beer stop (I skipped), music blasting and some great signs that definitely made me smile.  With crowd support scattered, this was the perfect place for an almost middle of the race pick-me-up.  After cruising uphill through a few turns and Miles 5, 6 and 7 the course began to head back home.  At Mile 8 I grabbed a GU then rolled on through the next two miles that included a repeat of those gentle hills in 4 and 5.
I enjoyed the out-and-back course because it didn't feel like it.  You ran on both sides of a road that has a massive grassy median and got to see lots of the peaceful neighborhoods.  Volunteers blocking streets and police officers preventing runners from being crashed into did an excellent job of keeping the course clear while providing a good cheer every now and then. 
Walking through a water stop at Mile 10 my legs started to remind me this was the first hard workout I'd had in a while.  The first half's rolling hills had caught up to me and I took it easy for the last 5k.  A nice downhill for Miles 11 and 12 was exactly what my out of race shape body needed.  I crossed the line in 1:49.15 feeling good about my Rock the Parkway training run.  It was cold, hillier than expected and I had been dehydrated until taking those leisurely strolls through all seven water stops.  I grabbed a bottled water, had my timing chip cut off by a volunteer and received a massive medal.  Because of the cooler temperatures and needing to catch a flight, I skipped the post race party and used a line-less Port-a-Potty before quickly heading back to my heated seat in the car.
Back at my hotel, I was surprised looking at my Garmin report.  There had definitely been hills to cover but I didn't really think much of them.  Expecting to see around 300 feet of elevation gained the computer screen showed me just under 500!  The last time I picked that much it had been a beat down.  I guess I shouldn't be surprised since I'd just taken close to a month of an off season and was running without any pressure.  All in all Rock the Parkway was a fun race with a challenging but manageable course that provided the workout I needed.  Up this weekend is Race #3 of my Month of Racing, the ODU Big Blue 5k.  I'll be better hydrated for this shorter, flatter race and seeing what I've got with little training to back it up.
Meredith
Have you ever raced dehydrated?  How do you tackle training races?