Before 2013, it had been quite a while since I'd run a real race schedule and taken training seriously.  That meant I needed a refresher on lessons I'd forgotten, and probably need to learn a few more, too.  All in all, 2013 was a great running, and learning, year for me, but it ended on a less than ideal note with a race that didn't exactly go how I wanted it to.  The 2013 Surf N Santa left me frustrated, disappointed and definitely burned out.  Luckily, a day or two of reflection, and forcing myself to sit down and write a race recap, have given me time to take last weekend's experience for what it was: an opportunity to learn.  Here are three of the biggest, and most important, things I took away from Racing in 2013.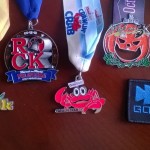 Trust my training.  I made the same mistake a few times this year, and it ended up costing me a few shots at new PRs.  With a notorious tendency to come off the Starting Line much too fast, especially if there are faster runners around me, I work hard to stay slow at the beginning of a race longer than 5K.  Often, the forced pace is slower than I find comfortable in a race environment.  In the Surf n Santa, where I didn't have my watch, I overcompensated way too much and ended up costing myself a lot of time because I was scared to fade at the end.  Making a mistake is the only way to learn, and I should have trusted my ability to pace myself without my watch.  I need to believe in the miles that are already under my belt, stop holding myself back at the Start and settle right into my race pace, knowing I can always push it for two more miles.
Don't run around runners.  It took me a few race to really learn that it's better to race through traffic than around it.  Rather than adjust my pace in the past, I'd take wide, very wide, turns or run diagonals across streets to pass groups of runners.  After covering plenty of extra ground on several race courses this year, I finally made a commitment to run straight lines and stop checking out every inch of the race course.  The Surf n Santa was the first time I adjusted my pace until holes opened up in runner filled stretches, rather than weaving all over the road to go around them, and I'll admit I was nervous to try it.  Worried I would fall off my pace or get stuck, it all worked out well and neither of those things happened.  Even without my watch, I could feel myself easily resuming my pace after an adjustment to get around people.  I wrote about my 2014 race strategies recently, and this is one that worked out really well for me.
Winning isn't everything.  Yes, to this incredible competitive blogger, it actually is, but it shouldn't be.  The 2013 Surf N Santa was a not fun run and presented me with an opportunity to learn this lesson once and for all.  I had set a tough, but reasonable, goal and was ready to wrap up 2013 with an all out effort.  The weather disagreed.  It was cold, windy and raining.  My watch refused to pick up a GPS signal and I took it off at the 5K mark.  I spent the rest of the race trying to enjoy myself, interacting with volunteers, friends and other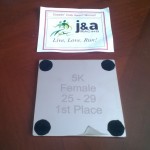 runners on the course while letting my goal go.  I crossed the Finish with too much left in my tank and no idea what I had run, other than I knew I had missed my desired time.  When I did find out my time, missing my goal by 2.5 minutes, I was really upset.  It didn't matter to me that I beat 2012 by 7.5 minutes or was 8 of 196 in my age group, it mattered that I missed my goal.  After a few hours, reality set in and I realized reaching every goal I have every time I set one is ridiculous.  No one is paying me to run, I just like doing it.  It was nice to get out on a nasty winter day and take the pressure off.  In 2014 I'm taking this lesson and hopefully running for fun a little more often.
With my last race of 2013 in the books, I'm happy my successful but brutal fall season is over.  It was a great year to learn, and I'm glad to be taking these lessons with me into a little break before kicking off 2014 with a sub 1:40:00 goal at the Shamrock.
Meredith
What did you learn about your running this year?