I say it's Race Week because I do have a race this weekend, but it's really not, because I don't plan on racing in Nashville on Saturday.  Tennessee is one of the 45 states, plus DC, I have remaining on my list of 50 to run, and to make every race a target event would lead to some tough training, leaving me with an inevitable injury.  No, thanks.  Running is fun, and that's what I'll be doing this weekend: running and having fun.  At the same time.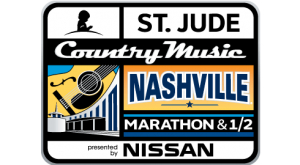 Remembering that, yes, in fact, running is fun, is something I've struggled with during my last two training cycles.  In my desire to set new PRs, get faster and see myself improve, I stuck fast to training schedules and didn't allow myself the flexibility to fully enjoy my long, scenic training runs, my track sessions or even my total rest days, when I was too busy checking the week's weather forecast and setting my schedule to match it.  My training wasn't stressful, but I often put pressure on myself to stick with the plan I set, stay on the paces I had picked for each workout and maintain a balance with my strength training.  I started to lose sight of the reasons I run, that it's not a job, and that I choose to do it.
I took 7 full days off after Atlantic City and last week was my first taste of running just to run in quite a while.  It was exactly what I needed to remind me that running IS fun, and almost two weeks into my new training cycle, I'm excited and happy to go out each day and get my miles in.  This improved attitude and outlook comes at the perfect time, as part of this new training cycle involves ratcheting my peak mileage up by almost 25% this summer.  I'm looking forward to my 'Running is Fun' Race Weekend in Nashville this week, hoping it will keep me mentally fresh.
I'm excited to see a new city, and get my usually solo weekly long run in with 20,000+ other people.  While I shouldn't care about my Finish Time on my 'Running is Fun' Race Weekend, I can't ignore it.  I'm guessing I'll finish right around the 1:41 mark, with the race environment to push me along, but for the first time ever, I don't have a target time.  Well, that's not true.  With a current PR of 1:38.42, I'll admit that finishing with anything over 1:43.00 would probably bother me.  The course does feature plenty of rolling hills, but they don't particularly worry me.  I know my quads are strong (love those front squats, back squats and deadlifts) and that I've managed just fine on a hilly course before.  Again, with the 'not racing' thing going on, I hope I'll handle them without having to fight much of a mental battle, keeping my outlook rosy and attitude positive.  Remember, running is fun.
Meredith
Do you ever lose sight of why you run?  How do you adjust your outlook?