Thanks for visiting!  I'm so happy you're here and want to say Thank You again for reading.  I would love for you to visit the Subscribe box on the right side of your screen and get all of my posts emailed to you.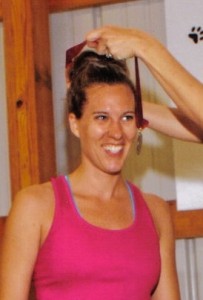 Owner of FitNicePT, I'm an American College of Sports Medicine Certified Personal Trainer, USA Track and Field Level I and Crossfit Endurance Coach.  A passionate runner with a Masters in Sports Management, I love helping others reach all of their fitness goals while working towards my own.  With a goal to run 50 Half Marathons in 50 States, I chip away at the list each year and can't wait to see new places.  The friendships and joy being a part of the running community has brought me have led me to also become a part of the Tidewater Striders and Road Runners Club of America.
As an ambassador BioSkin, which is home to some amazing products and for both #SweatPink and #GirlsGoneSporty.  I'm proud to support, grow and learn from lots of amazing women who, like me, are driven to help others and share their experiences.  I write this blog to chat about my running adventures, share running advice, let you know what I think about races, restaurants, books and movies and, hopefully, share something that helps you on your fitness, wellness and lifestyle journey.