Saturday I ran my first 8k in three years. Five days post marathon the Shamrock 8k might not have been the best idea I ever had but I hit a new PR and had some fun. For the second week in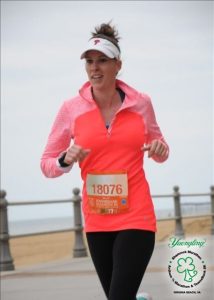 a row the ugly weather forecast held off. Predicted rain didn't hit until after the race and I was lucky enough to stay dry the entire day.
Weather aside, the Shamrock 8k is a simple, flat and fast course that presents a great opportunity push yourself. This year it was home to the USATF Master's 8k Championship. I started in Corral 1 surrounded by masters athletes and speedy high school runners. The first half mile was a little traffic filled and I definitely got swept up in the pace.
My legs felt OK heading into the race but after about 2k they let me know it was too soon. My pace decreased in spite of the tailwind and I was OK with that. I was well on my way to crushing my old 8k best even if slowed down a bit. I crossed the finish line in 35:48, beating my old PR by over 90 seconds. Five days post marathon I was more than happy with it. I collected my medal, a new kooize, a banana and a few snacks before heading into the always wonderful Shamrock Party Tent.
Now it's time for a little R&R. I say a little because I have Run the Bluegrass coming up in a few short days. The race will check Kentucky off my 50 states list and be loads of fun but beyond that I have no expectations. There are roughly 1,000 feet of elevation gain over the 13.1 mile course and it will be my first run over 6 miles since the marathon.
Meredith
Did you run the Shamrock 8k? Do you like the 8k distance?