Shrimp and rice stuffed peppers were a spur of the moment idea that dawned on me because I had some precooked shrimp to use and a few large green bell peppers that I didn't want to go to waste.  My little experiment turned out to be a simple and filling easy weeknight recipe I'll definitely make again.
Shrimp and Rice Stuffed Peppers
Prep Time:  10 minutes
Cook Time:  20-30 minutes
Difficulty:  2
Ingredients
2-4 large green bell peppers, cored, cleaned and halved
5-20 large shrimp, thawed, peeled, tailed and de-veined.
1 cup brown rice, cooked
1-15.5 oz can diced tomatoes with juice
1/4 to 1/3 cup cheddar jack cheese
1 Tablespoon extra virgin olive oil
1 teaspoon taco seasoning
1/2 teaspoon crushed red pepper
2-3 dashes cayenne (to preference)
Instructions
Preheat oven to 350, cook rice until almost all water is absorbed.
Add tomatoes, cheese and seasonings to rice.  Heat until cheese is melted, stirring regularly.
Paint outside of pepper halves with olive oil.
Add shrimp to rice mixture and spoon into pepper halves.
Place peppers in oven for 20-25 minutes until shrimp are opaque and peppers are soft (to preference).
***If using precooked shrimp, cook peppers with rice for 15-18 minutes then add shrimp on top and bake for an additional 5 minutes to prevent shrimp from becoming tough/chewy)***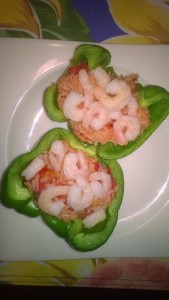 I was really happy with the way these shrimp and rice stuffed peppers turned out.  They're a tasty dish that's simple to put together and allows for a big range of flavor with under 320 calories.  One additional bonus is that I've found a vegetarian dish I can both make and enjoy so if you need something for your meatless Monday, leave the shrimp out and fill up.
I hope you'll give these shrimp and rice stuffed peppers a try and let me know what you think!
Meredith
What do you usually put in your stuffed peppers?