As I mentioned last week, I was lucky enough to win a SPI Belt through the 2016 winter edition of RunChat Hunt. I intended to take it with me on an easy run last Sunday but totally forgot it. That's what happens when you never run with anything, I guess. To make sure I followed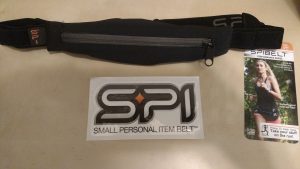 through on my promise to tell you all about my experience, I zipped my GPS watch in it that night.
It just so happened my next run was a long tempo outing of 5 x 2k repeats with a 400M jog between. Not only is this a fun workout, the weather was just about perfect, my legs felt fresh and I'd get to test the belt at a variety of paces. Perfect! I began with 2k at marathon pace then increased each rep to finish #5 at 10k pace. Here's how my new SPI Belt responded:
Fit: The fit is great. A highly adjustable belt allows for lots of freedom in where on my hips or belly I wanted it to sit. For easier runs I liked it lower but for faster work I liked it tighter and a bit higher.
Comfort: The belt was surprisingly comfortable. I haven't had lots of experience running with a belt but those I have had weren't great. The SPI Belt stayed in place without any bouncing and was barely noticeable when I wasn't paying attention to it for this review.
Size: I don't wear fuel belts because every one I've ever tried has been too bulky. The bands have been too wide or not fit well. That was not an issue with the SPI Belt. The thin strap adjusted easily to fit me just right while the width was not an issue at all.
Space: My phone lives in a gigantic Otter Box so to make it fit, the case had to go. I have this problem with plenty of small handbags, too, and it didn't bother me. Phone sans case, ID, credit card, key and gels, I shoved as many things as I could in there. Plenty of room for all of your essentials.
My second fun workout was when I took the belt out again and got to forget it was there. A great product that definitely met my carry-all needs.
Meredith
Do you have a SPI Belt? What's your favorite feature?