Tidal Wheel, located in the Hilltop area of Virginia Beach, and only moments from the Oceanfront, is an indoor cycling center home to good people and great workouts.  Tucked in a corner of Hilltop East, the unassuming exterior hides a studio that packs a punch.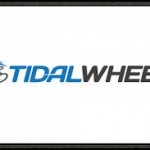 A big reason I went to check out Tidal Wheel was for some of my clients.  When it's cold, windy and otherwise not nice out, they look for alternatives to running outside.  The treadmill is boring, we all know that, but does the boredom trump our fears of losing fitness?  Sometimes.  To avoid that tough choice, suffer outside or in, there's a great alternative: indoor cycling, or spinning.  Spinning not only protects you from the weather, but is also great for increasing running cadence.  I started writing about the benefits of spin class for an entry on the FitNicePT blog, and realized there's a state of the art studio right in my backyard.  What better reason to go try something new?
Tidal Wheel has a great schedule, with classes to meet anyone's schedule, and I chose to reserve a bike in a 6am class with Mike.  It had been a while since I last rode a bike, inside or out, and I was excited to get back on.  I popped out of bed yesterday morning, threw down some breakfast, scraped ice from my windshield and was on my way.  I was slightly worried about my lack of padded shorts, but figured I could manage 45 minutes without too much trouble and got ready to sweat.  Arriving about 15 minutes before 6:00, the large parking lot was empty except for a few cars clustered around Tidal Wheel's entryway.
I walked in and was greeted by a friendly front desk attendant.  I then signed a waiver, was handed a pair of cycling shoes and assigned a bike (#6).  I headed towards the studio's locker area down a clean white hallway and faced a wall of lockers I've never seen before.  In your items go, close the door, turn the nob and hit any four digits to set your own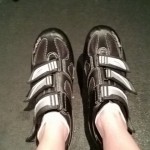 combination.  No keys, no code to memorize, amazing.  Technology will get me every time.  I popped into the spacious and clean restroom that was equipped with a shower before sitting down and sliding on my Tidal Wheel cycling shoes.  This was the first time I'd ever worn cycling shoes and they were surprisingly comfortable as I made for the classroom.
A few fellow early morning spinners were gently pedaling away to softly playing beat driven tunes and more trickled in as I found and set Bike #6.  The room is filled with 30 spin bikes all arranged to face a raised instructor's platform complete with its own light display.  Bands dangle from the ceiling
and each bike is decorated with a rolled up, white towel and pair of black dumbbells, promising a little upper body work.  Large fans hang in the corners and speakers dot the ceiling as well.  As soon as I entered the room, our instructor, Mike, introduced himself and did a great job explaining seat height and what the angle of my knee should be when extended.  I settled in the saddle and clicked my cycling shoes into the pedals.
I slid my water bottle into the holder and started my own warm up while the room filled with both men and women looking eager to get started.  Next thing I knew, the lights were dimmed, the music turned up and we were off.  For the next 45 minutes, sprints, hills, biceps curls, handlebar push-ups and tri-presses were the focus of my attention.  With no visible clock and no watch, I can only guess it was around the ten minute mark when I noticed that I wasn't uncomfortable.  My concerns about a little padding for protection from an awful bike seat faded away as I started to get down to work.  A variety of positions on and off the seat had my legs working hard and when we added the push-ups my lack of coordination became painfully apparent.  I finally got in the rhythm just in time to change exercises and sprint.  A post-sprint sweat removal and water break sent the class into some work with those dumbbells.  With Mike's enthusiastic teaching, everyone powered through the series of shoulder raises and curls.  Of course, my shoulder felt awful and some of us forgot to keep the legs going while working with the weights and needed a reminder, but I was quick to get back on track and keep spinning after shaking my shoulder out.
Before I could get out of rhythm again, we were on to hill work.  Mike announced it was our last series (already?) and, two turns of the resistance knob later, up a hill I went.  My quads felt good pedaling against more resistance while my shoulder was enjoying a breather.  A solid finish through what might have been mountains wrapped up class that didn't feel like it had lasted 45 minutes.  The lights came up a bit and a few students made an early exit while Mike led the rest of us through some post-spin stretching.  My lack of experience with cycling shoes made extricating my shoes from the pedals a challenge, mostly because I didn't want to pull super hard and break anything, but also because I had no idea what to do.  Mike scampered over as I threw my hands up in bemused embarrassment and helped me detach from the pedals so I could join the cool-down.
A few pulls and reaches later, I dismounted my bike without grace and stood on tired but sturdy legs.  An hour later, my butt bone had survived, my shoulder had stopped screaming, my water
bottle was empty and that clean white towel was now soaked in my sweat.  A high-five with Mike as I walked out of the classroom topped off a wonderful Tidal Wheel experience.  Opening my locker was easy with my self-made code, when I figured out which one it was, and I dropped my cycling shoes into the sweaty shoe collection bin before tying on my gym shoes.  A hamper received my sweaty white towel and I zipped my jacket while heading for the front door.  I think I even managed to follow all of the rules!  Not too bad before 7am.
A fun way to start any morning, check out Tidal Wheel's schedule and reserve your bike today.  My fellow riders were friendly and after the workout there was a smile was on every face.  It's clear the Tidal Wheel family is a fun place to be.  The staff is welcoming and knowledgable, no matter what the hour, and the studio is clean, well designed and perfectly located.
Meredith
Do you Wheel?  Is spinning part of your training program?