Christmas is two days away and that means it's time for my Spring 2014 Training Kick-Off.   Riding the new year's wave are my Spring 2014 races, and training starts now.  The Shamrock in March is 12 weeks away, and with it my first shot at hitting a new half marathon PR.  I'll have a second opportunity to get one, or improve on it, at the also flat April Fool's Half Marathon in Atlantic City three weeks later, and while the hills of Nashville's Rock n Roll don't look promising the last Saturday in April, I hope to stay under 1:45:00.
Spring 2014 Training Kick-Off happened this morning in the great state of California.  As I mentioned in this post, Doug and I are out here celebrating the Christmas holiday with his family.  Not only am I ready to get my Holiday on, I was ready to get off my two week no serious running break, and excited for Spring 2014 Training Kick-Off.  I was especially interested to see what fifteen days of almost no running combined with eight days of heavy lifting had done for my legs.  An additional bonus was being able to do it in a totally different environment, and with a 45 minute run right next to the Rose Bowl, I had great scenery and some altitude (864 ft) to test my lately under-worked lungs.
After a nice breakfast and some quiet hotel time, we hopped in the car and made for the Rose Bowl.  Located next to a golf course, the Grand Daddy of stadiums is surrounded by a three mile recreational trail full of long, slow inclines and declines intermixed with short, steep up-and-down overpasses.  Pumped up but a little sore, I took off for my 15/15/15 tempo run on fresh legs that were quick to loosen up.  Virginia Beach comes in at 12 feet above sea level, so I expected to feel winded early, but after a stop to use a restroom and tighten my laces, I hit the 15 minute mark feeling great.  I picked my pace up to 5K speed for the next 15, and with the help of a long, mild downhill slope, rocked minutes 15 through 29.  Aside from a bit of tightness in my calves, my legs, my lungs and I were doing just fine thus far in the increased altitude.  I wanted water and didn't have any, but kept my pace comfortable as I slowly came down to 10K for the final 15 minutes when disaster struck.  I had a searing side stitch under my left ribs, which I have never had before, and even after a short break to bring my heart rate down, found it started right back up as soon as I stopped pushing on it.  I tried a variety of breathing techniques, but nothing seemed to help and I still didn't have any water.  Another, longer break was enough to power me through the last 7 minutes of my run, and even though they were a bit slower than I wanted, I got them done.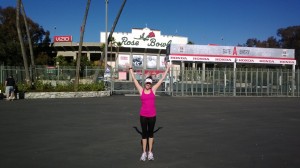 All in all, it was a successful 38 minute tempo, hill and elevation run this morning that definitely got Shamrock training started right.  The last seven minutes, who knows, but they aren't going to throw me off track.  After flying yesterday, I'm sure hydration had something to do with it, and I know I should have taken in more water last night and this morning.  I'll be sure to make sure it's not going to be something I run into again, and I've learned the last of my 2013 Running Lessons.  I had plenty of water after the run, which was very helpful and tasted great, before snapping some good Rose Bowl photos and heading to my Spring 2014 Training Kick-Off lunch.
Back in the car we drove almost 2 miles to Old Pasadena, where we ate at Haven Gastropub.  Several large glasses of spring water accompanied a pair of beers I had never tried before (Hennepin by Ommegang and Heavenly Hefe by Crasftsman) and a big, juicy McCormick Alley burger.  Slow service but good food made me feel better about the reasons my run didn't go as well as I wanted it to and I'm ready to head back out tomorrow.
Now we're off to family and some quality Christmas time.  I hope you all have wonderful Holidays and enjoy spending time with your loved ones.
Merry Christmas!
Meredith
How do you deal with new running obstacles?