With Global Running Day to celebrate this week, I've been busy but that's no excuse to skip a race report.  Last Sunday I ran the Steel Pier Classic 5k.  It's part of the annual Steel Pier Classic and Surf Art Expo surfing competition and very beachy art show that take place at the south end of Virginia Beach's boardwalk.  This was the first time I've participated and it was a completely last minute decision when I registered on Friday afternoon.
The over an out and back race was small, barely over 200 runners, including vacationers and out of towers who wanted to tackle 3.1 miles of boardwalk.  I ran the mile from my house to the start as warm up then a few strides and some mobility to finish getting ready.  It was, of course, the first morning of the year things were really humid and sticky.  My warm up had been decent and I wasn't expecting much after nailing the 'what not to do the day before racing' list Saturday.  Wrapping up a day of biking three miles, walking over a mile and spending 3.5 hours on my feet at a wedding less than 12 hours before race time definitely isn't ideal.  Did I mention
I'd already run all of y weekly miles?  I had.
The Steel Pier Classic 5k started unceremoniously right on time and I quickly settled into a mildly uncomfortable pace thanks to the humidity.  I had to dodge a few walkers and dogs on leashes on my way out and it was definitely distracting.  There were a few men in front of me as we turned back toward the finish but I was first female by a pretty large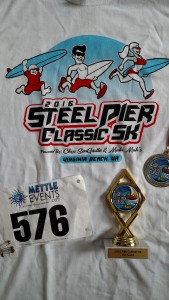 margin.  Right around Mile 2 my right leg got a little upset with the slanted surface and I slowed a tiny bit.  No need to push things or get hurt.  Hearing the people I had run around on the way out yell cheers of 'go girl' and 'first female' helped me smile and remember to have fun on a less than amazing run.  I eased through the last mile to cross the finish line as first female in 22:21.
I got a medal, a trophy and a squinty eyed photo after downing two bottle of water and jogging a barefoot cool down.  Winning the female division, seventh overall, on a hot morning with tired legs felt good and I'm looking forward to fresher legs for this weekend's OK5K.  It was a good way to kick off a light week of training that included a Global Running Day fun run with my best running friends and J&A Racing.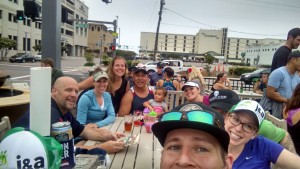 Meredith
How did you celebrate Global Running Day?  Do you ever run a 5k on vacation?