I'm back in action!  A rough run on Saturday had me staving off more until today but thanks to the weather, things got shuffled around a bit.
After fighting a little with both of my ankles over the weekend I reevaluated my schedule and Sunday night decided my legs were feeling well enough to stick with it.  Until I read the week's weather forecast.  A predicted high of 27 on Thursday.  While I don't mind running in frigid temperatures, it would be my first genuinely cold run of the season and I didn't want my final long run before Rock n Roll Arizona to suffer because of it.  Luckily I was able to adjust my training schedule to accommodate winter.  Here's what the week will end up looking like:
Monday – Strength training
Tuesday – Rest  Shakeout run with 2x 200M strides
Wednesday – Interval Work
Thursday – Long Run (10 Miles)  Rest
Friday – Shakeout Run  Long run (10 miles)
Saturday – Race Pace Run (4 miles+)
Sunday – Heavy lifting
My legs were beaten up after a heavy dose of front rack walking lunges Monday and the shakeout ended up being exactly what I needed.  It was a day earlier than I had planned on running again but a short jog before heading out let me know my ankle would be fine.
I'm happy to be running pain free again and am even happier to have received some cool awards.  They're awards I earned in 2014 but I waited to share until they all arrived.
My age group award from the Heart of Ghent 10k print with a plaque commemorating my 10k PR.  It was very hard to photograph with my phone!
Rock n Roll Series Heavy Medals!  Rock Encore and Triple Crown earned for Rock n Rolls in Nashville, Virginia Beach and Las Vegas.  The Triple Crown is HUGE!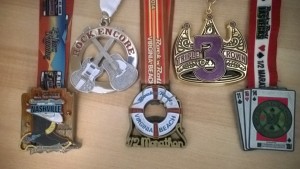 Meredith
What cool awards or medals did you earn in 2014?  How do you decide if you've recovered enough to run?