My second race week in a row featured the 2015 EquiKids Cross Country 5k.  It was their 13th annual event, my fourth time participating and Doug and Jordy's third time tackling the 1 Mile Run with the Hounds.  I look forward to the spring for this run each year because it's fun for the whole family.  Plus, getting Jordy out there to race is always good for a few laughs.
My race weekend began with volunteering at packet pick-up for a few hours Friday then a nacho dinner at the Green Parrot.  I got a good night's sleep and woke up ready to rock the trails Saturday morning.  Outside my window, the ground was covered with heavy fog after Friday night's light rain and I immediately knew it would be humid out there on the double loop trail course.  I wasn't too concerned about mud, the EquiKids team does a great job getting the trails ready.  It wasn't raining and there was a cloud cover which meant the humidity would stick around for a while but there have definitely been less favorable conditions to fight through in previous years.
We arrived at EquiKids about an hour before the 5k start.  Doug and I socialized while Jordy made a few new friends and enjoyed exploring.  I started my warm up 30 minutes before the race with some stretching and mobility work then jogged one easy 800 and a second with three strides.  My legs felt good, though not as fresh as I would have liked, lined up at the Start for announcements, ready to work.  I had been a bit concerned after the previous week's messiness and was relieved to feel almost back to normal.  Before I knew it, we were off.
I held my pace steady as the usual start too fast crowd sprinted by me and entered the first lap in the woods realizing I definitely would have benefited from a longer warm-up.  The shorter the race, the longer the warm-up, but I failed to follow through on this occasion.  Oops.  The trails were edged by a few barely muddy spots and the expected humidity was in full force.  It took my heart rate a little longer than usual to settle down into racing mode with the thicker air and by the 1 Mile mark I finally felt ready to get in gear.
Unfortunately, my watch did not.  I had trouble with it giving my accurate timing information when running through the woods (I know this is not a 9:10 mile…) and since I don't run on dirt often, it was hard for me to nail down my desired pace.  I gradually passed the too fast starters as my legs and heart settled in, all warmed up now.  Popping back out of the woods on Lap 1, my watch got a better signal and I maintained my 7:15 pace until hitting the soft dirt again for Lap 2.
Thanks to the course design, I counted four ladies in front of me before reentering the woods.  I vowed to not let myself be passed and was happy to stay in my position.  Sticking with my pace helped me pick off two lades in front of me after the Mile 2 sign and I was on the edge of passing a third past the 2.5 mile mark when a left turn stopped us both in our tracks as we avoided colliding with one of the awesome Team Hoyt participants.  We both took off again and I gained a few meters on her as we entered the final stretch.  I knew I was in position to place in my age group, or even overall, as I eased into the Finish Line while she kicked to pass me in the final 50 meters.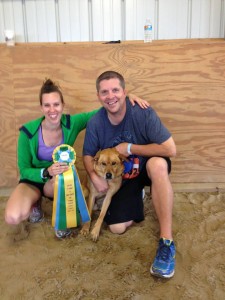 I finished the 2015 EquiKids Cross Country 5k as third female overall and was happy with the end result even if I wasn't much faster than last year.  My legs felt decent but I hadn't warmed up enough and was still coming back from Prairie Fire.  The humidity also impacted my performance, especially coupled with the too short warm-up.  Now I know I need a longer 5k warm-up!
A few minutes later, Doug and Jordy lined up to take on the 1 Mile Run with the Hounds.  They beat last year's time by a good margin and Jordy celebrated by laying down in the dirt.  The post race party and awards were filled with pizza, lettuce wraps, raffles, beer, water, friends and adorable dogs.  I can't wait for the 2016 event!
Meredith
Do you race on trails?  Why or why not?