This week has been all about marathon recovery.  The 2016 One City Marathon is a thing of the past and I've spent the last few days focusing on healing my body.  Especially those blisters.  Even though I know what to do when my muscles need some help I wasn't sure what to expect during my marathon recovery period.  Would I be beat up for days?  Would I feel like getting back into the groove quickly?  Well, here's what this week looked like: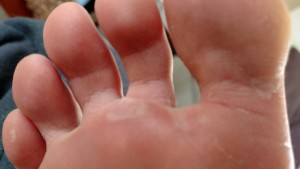 Marathon Recovery Day 1 (Monday):  Gross blisters still hurt.  Legs felt OK except for calves and behind knee.  Walked on my heels most of the day, lots of foam rolling, bike to and from work, air squats and push-ups.
Day 2:  Blisters somewhat better.  Half mile very easy jog, lots of foam rolling, 5 mile bike.  Calves and knee still tight but able to walk normally with left foot.
Day 3:  Blisters dried out and itchy.  Bike to and from work, easy jog three miles with a few twinges of knee pain from unhappy right foot.
Day 4:  Bike 5 miles, mobility and foam rolling.  Blisters continue to dry out and I'm able to walk normally!
Day 5:  Run 3 easy miles.  Mobility and foam rolling.
Now that I'm moving onto the second stage of marathon recovery, easing back into some light training, I'm all eyes forward.  I'll be pacing the 10 minute group at Hot Chocolate 15k Philadelphia on 2 April, taking an easy 13+ mile jog at Rock the Parkway in Kansas City, Missouri (State 19), hitting the ODU Big Blue 5k hard and wrapping up a month of 'racing' pacing the Coastal Delaware Half Marathon 1:55 group.
A quiet May follows that super busy April before starting to base build through the summer for  a busy fall on the schedule with PR attempts at both the 10k and half marathon distances.  I'm excited to get back to the 13.1, 10k and 5k distances.  Marathon training definitely helped me become a stronger runner and I learned a lot about how and when to push myself in a training cycle.
Meredith
What does your marathon recovery look like?  Are you racing in April?