It's time for the July 2015 edition of Right Now!  This month I'll tell you what I'm pacing this fall, what I'm harvesting this week and what I'll be reading at the airport.  That's right!  I'm on my way to  run the 2015 Rock n Roll Chicago Half Marathon where I'll be hoping to finish a strong training run and stay cool on the course.
Pacing:  I'll be pacing two half marathons this fall and couldn't be more excited.  The first is one I had the honor of pacing last year, as well.  Rock n Roll Virginia Beach is coming September 6 and I'll be out there with Hampton Runner leading the 2:15 group.  It's always a hot one but at an easy pace, it's a blast to cheer on so many runners to new PRs.  Hopefully there's more music on the course this year!  My fall pacing duties continue with the Hartford Half Marathon 2 hour group on October 10 in Hartford, CT.  I'll be checking off another state on my list while hopefully making some new friends and helping to set at least a few new PRs up north.
Harvesting:  I put my Miracle Gro AeroGarden together about four weeks ago and have started harvesting some of its produce.  I'm really excited to start cooking with the fresh, organic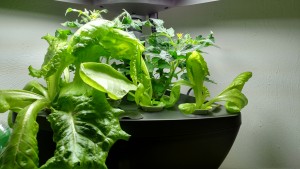 veggies and couldn't be happier with the ease and speed they grew.  The few pieces of lettuce I've snuck have been very tasty and my tiny tomatoes look delicious.  With the bunnies outside, this indoor option has been perfect and low maintenance for me.
Reading: Lean In by Sheryl Sandberg.  This isn't a new blockbuster best seller but I've finally gotten around to cracking it open.  It's wonderful.  It is not only filled with solid, research backed facts about the monetary, emotional, support and expectation difference men and women face in the work place but offers suggestions to improve the situation without making a chance seem impossible.  A positive spin on a sometimes unfair and ultimately stressful circumstance, it's a must read for anyone who wants to starting harvesting some serious success both inside and outside the home.
Meredith
What are you harvesting, growing, reading or racing right now or soon?