March was a great running month and April kicked off in a similar fashion. I tackled state number 24, Kentucky, with Run the Bluegrass on 1 April. I hadn't been doing much training for it after One City on 11 March but headed to the Start with plans to just have fun.
After a shorter than usual warm-up, I was ready to tackle the very hilly course. My legs were fresh but I could tell I wasn't in peak performance shape. My goal was to run around a 1:48, taking things easy and enjoying the scenery. Things started with an almost immediate climb and I knew I was in for a tough workout. The hills kept on coming, up-down-up-down, without any flat stretches in sight. I stuck with the 1:45 pacers until walking leisurely through a water stop around Mile 5.
After falling back from the 1:45 pacers, I decided to take things easy. I actually looked around at the beautiful scenery and enjoyed the beat down I was getting. It's clear I don't live somewhere that can adequately prepare you for big, hilly courses. By Mile 8 my hamstrings and glutes were grumpy which was great since Mile 9 is the course's toughest. I took a walk breaks at all second half water stops and slowed down to check to out a few overlooks.
I powered up and down more hills in the last 5k. Aside from a little moaning and groaning from my glutes and hamstrings my body felt great as I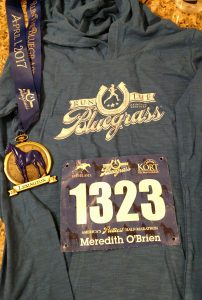 collected my big medal. It was by far my inconsistent half marathon ever but I had a great time and felt good crossing the finish in 1:47.11, 12 in my age group. I was really happy with my performance on out of race shape legs on a very challenging course.
The rest of April is full of training. I have one more race, the ODU Big Blue 5k, on the 15th but otherwise I'll just be grinding away. With lots of time before my next goal race, Smuttynose Half, I'm looking forward to a few weeks of 30-35 miles with loads of play time.
Meredith
Is Run the Bluegrass on your list? What's on tap for April?