Healthy eating is a challenge.  There's so much prepared food filled with sugar, fat and salt quickly and easily available that finding something  good for you can be tough.  Our busy schedules also make eating less nutritious food convenient and appealing.  Luckily there is tons of good quality, good-for-you food available on the edges of the grocery store if you stick to them.  There are also tons of benefits: less soreness, better sleep, longer life, lower risk of disease and more.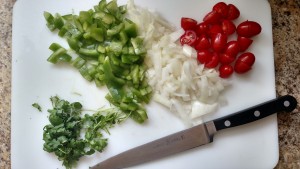 Here are four of my favorite tips for eating healthy!
Plan:  Put together a meal plan for the week.  With a plan in place you're less likely to just go ahead and eat whatever.  A plan increases your involvement in responsible choices and gives accountability.  Having a healthy eating meal plan also helps make grocery shopping easier since you'll know exactly what you need.  Adios, impulse cookie purchases!
Prepare:  Meal prep can be a long process but it's worth it.  Make big batches of meals and stick individual servings in the freezer or fridge.  It will make healthy eating simple and save time during the busy week.  I also chop up veggies and fruits to make good-for-me daytime snacks
just as quick and accessible as something processed.
Skip It:  With your meal plan ingredient grocery list in hand hit the store with a mission.  Follow the edges of the store, grabbing the fresh things on your list and skipping the middle isles packed with processed, sugary foods.  If you don't buy it, it's not in your house and you definitely can't eat it!
Use 80/20:  Enjoy yourself.  We all need a treat now and then so go ahead and indulge a little bit.  Using the 80% good, 20% not-so-good rule, satisfy that sweet tooth daily.  If you hold out until you can't take it anymore or are celebrating at the dessert buffet, you're much more likely to overindulge.
Meredith
What are your tricks for healthy eating?