I ran the 2014 Myrtle Beach Mini Marathon to complete my South Carolina state race and check another location off my 50+1 list.  Doug also ran the half marathon, his first in over four years, and even though it's not an arduous journey from home in Virginia Beach, we stayed an extra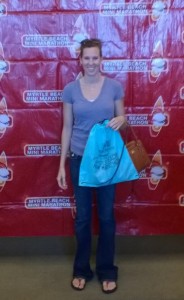 day post race to relax.  The racecation began with our Friday night arrival.
We checked into our hotel, grabbed some dinner and hit the hay after a long day of work and traveling.  We had a leisurely Saturday morning while the Coastal 5k went off then made our way to packet pick-up.  The expo was small but well organized and I thought it was interesting you had to walk through the vendor area to pick-up your race shirt at a different location than your race number.  With our
newly acquired numbers the rest of the day was spent relaxing, watching college football and hydrating before a nice big salad and bowl of pasta for dinner.  I went to bed a bit before Doug with my alarm set for 5:20 and got an OK night's sleep on the firm hotel bed.
Race day dawned chilly like we expected, but that meant good running weather and I was very happy with the 60 degree morning.  We fueled with breakfast, bagel for me, oatmeal for him and both downed an E2 en route the the Start.  The race was point to point, beginning at the Coastal Grand Mall and finishing on the Myrtle Beach Boardwalk.  There was more than ample parking and the Port-a-Potty lines were fairly short when Doug and I walked over.  A few minutes later the lines started to lengthen, which was problematic because the portable toilets faced the road and people waiting were forced to stand on a curb trying to stay out of the incoming race traffic.  After avoiding that mess, we made our way back to the car, folded our sweats into gear check bags, checked them (hence no start photos) and made our way to the corrals.
We wished each other good luck and I slid happily into the front of the 7-8 minute mile corral.  A short time later I listened to the National Anthem and took off with the crowd just about right on time.  The course began with a loop around the mall for Mile 1 and I did a good job of being sure not to take things out too fast as I clocked a 7:30 first mile.  Coming into sight of the Mile 1 sign, I was running between two gentlemen and within a few seconds of one another, all of our watches beeped.  Before the marker.  I was at 1.06 when I ran past it and knew I had to be very aware of taking the shortest route possible for the remainder of the race.
The course wasn't anything spectacular on a mile by mile basis until the last few.  Through Mile 9 it was pretty flat with only one big bridge to conquer, a few gentle grades and a paved trail around the Mile 6 mark.  My left glute got a little grumpy climbing the bridge but it loosened back up quickly as I ran on.  Miles 2 through Mile 10 were between 7:18 and 7:21 and I did a very good job of taking the straightest lines I could through each curve and turn since I didn't pick up any additional distance.  When I passed the Mile 10 mark my watch read 10.06 and I was ready to go for the last 5k.
A turn at Mile 9.5ish had the course running south, parallel to the ocean, and a mile later a lovely a 10-15mph headwind kicked up.  An annoying headwind is something I'm used to but never keen on at that point in a race, especially one where I'm pushing myself.  Miles 11 and 12 averaged a slightly slower pace (7:23, 7:24) but I felt good in spite of the slower times because I was ahead of my goal time by over a minute.  When I passed the mile 12 marker with 12.06 and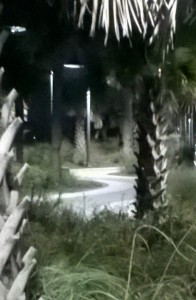 1:28.26 on my watch I was thrilled.  In all of my excitement, I made the turn onto the Myrtle Beach Boardwalk and don't recall when I saw the Mile 13 marker, or even if I noticed it at all.
Turning left onto what I thought was the final straightaway, I quickly became frustrated.  Running on what's known as the Promenade, this last stretch was not the friendly, straight Boardwalk I had expected.  The Promenade is narrow.  It is twisting.  It felt never-ending.  When I finally hit the wooden boards, it was completely demoralizing.  The Finish Line, like the last two races I've run, isn't visible until you're practically on top of it.  I took a glance at my watch and noticed I had run much more than 1.1 miles since that Mile 12 marker.  With 13.18 on my watch, I could see the clock ahead and realized I still had more than 100 meters to go.  After feeling so great about the first twelve miles of the race, terror sank in as
the seconds ticked away and I thought I might not make my goal due to the extra time additional distance had eaten up.
I made it by the skin of my teeth, crossing the under the Myrtle Beach Mini race clock as it flashed 1:37.25.  Even though I averaged a 7:20 pace for the race, I was incredibly frustrated when I hit the stop button on my watch.  I had run 13.29 miles in 1:37.24 when I had expected to run 13.16 in under 1:36.45 just nine minutes before.  My frustration took a while to dissipate as I collected my massive medal (these things are huge), water, pretzels, a banana, an apple and finally cruised over to the gear tent.  I settled onto a bench to trade shoes for flops and give my feet a little air, used one of the large number of finish area port-a-potties and started to calm down.  No matter what had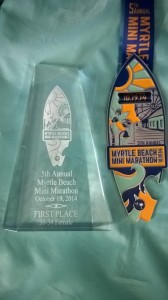 happened during that last mile, my race had been a success.  It proved that my training paid off and next target race will definitely be faster.
Waiting for Doug to run past me as he came off the Promenade himself I decided to check the results online.  Citing my frustrating finish and the large number of people who had taken off in front of me, including the 7 min mile pace group, I didn't feel good about placing in my age group.  I'm pretty sure my mouth fell open when the page opened and said I was first in my age group, 13th female and 79th overall.  I had correctly guessed there were a lot of people in front me, luckily they happened to be mostly men.
Moments later Doug ran by, beating his goal time by two minutes and just as frustrated by the Promenade section as I.  In the end, Doug ran 13.30 miles, I ran 13.29, several people I chatted with were anywhere between 13.18 and 13.31 and apparently
this non-USATF certified course is not coined a half marathon because it's longer than 13.1 miles but shorter than 26.2.  We enjoyed our complimentary beer while waiting for the awards ceremony and here I am with the other female 30-34 award winners.
Other than the length of the course, it was sparsely populated with spectators until the oceanfront portion and even though I wasn't stopping at the well staffed water stops I did notice, and have Doug confirm, the final stop seemed a disproportionately long way from the penultimate one.  There are lots of positives about the Myrtle Beach Mini, too.  The course is fairly flat, the water stops are well stocked with volunteers, water and Gatorade, there was tons of parking at the start, the medals are massive, the awards ceremony was great, the band was very good and it was well organized.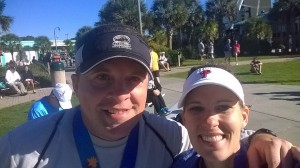 We snapped this photo while waiting for our shuttle back to the start and that was quite an adventure itself.  When we lined up there were three buses departing for the 3.5 mile trip back to Coast Grand Mall and our parked cars.  We waited on a cement sidewalk for close to 20 minutes before a bus finally returned.  It seemed like this could have been spaced out better or communicated to the participants.  Once a bus load of people had boarded, we were on our way.  It was a quite a bumpy trip as the bus seemed to have trouble shifting out of first gear and possibly needed some engine or transmission work.  We finally safely arrived back at the car and made our way back to the hotel for some serious foam rolling and refueling.
I don't see myself running the Myrtle Beach Mini again but recommend it if you're looking for something in the area.  There was construction that forced the course to be changed this year and I think that might have been the source of the additional distance.  Myrtle Beach is a great place to visit off season, especially in the beginning of the week and we had a great time exploring the Boardwalk area on Monday.
Meredith
Have you run Myrtle Beach?  How do you deal with an extra long race course?