The 2017 One City Marathon is in the books. I had a solid run and was happy with the results in an official finish time of 3:29.19.
I came out of the gate fresh and ready to go. Too fast. I settled in around a 7:45 pace and kept telling myself to slow down. I couldn't. A lovely runner named Jim had settled in right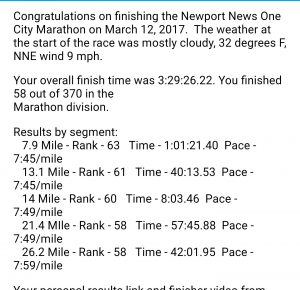 along with me and we chatted our way through the first 14.
After hitting the half in 1:41, I knew I had to slow down or I would be in big trouble. Of course, I also had it in my head that it was race day, I had tapered well and didn't actually know what I was capable of. I walked through a water stop at 14 very easily in an attempt to bring slow my body down. As you can see from the splits, it worked a little bit.
I still felt good downing an extra GU at 18.5. The fast half was starting to catch up with me and caffeine was just what I needed. Of course, I also needed water. Unfortunately the water stop at 20 was all the way on the other side of the road. Across four lanes on the outside of a turn. Hitting it would have added even more to my already extra long marathon. I skipped it feeling confident I could make it to the stop at 22.
I made it to 22 and grabbed a cup of water as I walked by. More attention would have been a good idea at that moment because that cup was barely full. I got maybe 2 ounces of water before continuing on. Not more than five minutes later I started to pay for it as my calves locked up. I gave them a stretch and tried to slow my run down to a jog. My pace inevitably crept back up and my calves responded with hostility. I skipped the next water stop at 24 knowing if I walked I would struggle to run again. Powering through the last two miles was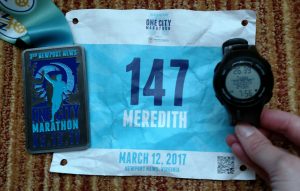 tough but I did it, crossing the finish line with a smile on my face.
I had run 26.39 miles in 3:29.19. While not exactly the race I wanted to run, I learned a lot and will be much better prepared for my next 26.2. If there is one.
Next up is the Shamrock 8k. Only five days after this marathon I'm not sure what to expect but it's been a long time since I've run an 8k and would love to see a PR. I'll also have to decide if I really want to run the Boston Marathon. There are 51 weeks a year I'm not that into the idea but when marathon weekend kicks off, I always wish I was there. I'll have more on that later because right now my focus is rocking 5 miles this Saturday.
Meredith
Did you run the One City Marathon? Have you ever qualified for Boston?
**For more of the nitty gritty like parking and hotels, check out my review on BibRave**