Even though this was technically the third time I've run this event, it was the first time it was monikered Norfolk Harbor 5k instead of Harbor Lights 5k. I paced the half marathon in its inaugural year then finished third female overall at the 5k in 2015.
My last race of 2016 and the end of my between training cycle down time, I knew my performance wouldn't be as fast as last year. I was OK with that and just wanted to get out there and have some serious fun before the long miles of marathon training took over my schedule for sixteen weeks. That's exactly what I did.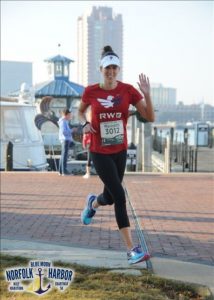 The morning was cool with a little wind that was barely noticeable once you were between the city's buildings. I felt OK warming up and shed a layer before the start. I lined up right in front to avoid traffic at the beginning. We went off right on time and I focused on running my own race instead of getting caught up with the faster runners around me. Mile 1 featured a few turns and a tiny climb (6:54). During Mile 2 I passed a lot of runners but knew I was still sitting 7th or 8th female. One woman was within striking distance and I planned on going after her with 1k left. I wanted to run an even effort but weaving through the city made it hard. Especially the two sections we traversed some cobblestones. Mile 2 clocked in at 7:00.
Another very sharp turn slowed me down with 800M to go but I was able to move up the spot I planned on. More twists and turns (see braking/
heel strike) kept my pace a bit slower than it could have been but I finished decently with Mile 3 at 6:56. The final 200M were straight and fast. I crossed the line at 21:50/3.16, winning my age group as 6th overall female.
Through the chute I picked up a bottled opener medal, banana, bottled water, chips and Norfolk Harbor 5k mason jar. My legs felt good as I cheered Team ECRP runners on and enjoyed my complimentary stew and beer. As always, J&A Racing put on a stellar event with great swag and a kicking after party.
Meredith
What makes a good race in your book? Swag? Course? Free photos?