I'm finally injury free! While I never took any total time off, I did back down significantly from hard workouts and specific exercises. Last week I incorporated some of the things I had been avoiding back into my routine with success. My glute wasn't extra sore, my gait was totally normal and everything felt good.
My transition back into real training started Monday with an OK Murph. For those not familiar it's a Memorial Day tradition performed in honor of Lt Michael Murphy that includes a one mile run, 100 pull-ups, 200 push-ups, 300 squats and a final one mile run. Wanting to save my energy for the challenging workout I failed to warm up as much as I should have. My glute gave me some trouble through the first mile but settled in with the squats. The second mile was an improvement.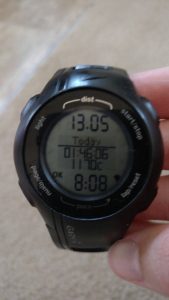 Tuesday my legs were, not surprisingly, beat up. A few easy miles helped them freshen up and again, I had no pain with a totally normal gait after warming up properly. Yay! Wednesday was also a few easy miles but this time in I also had the pleasure of being pouring rained on. My shoes were finally dry by Sunday.
Thursday it was an attempt at the long run. The humidity Thursday morning was a doozey but I felt good about getting the run done. I started easy then picked up the pace as the sun rose to burn it off. With my last few miles at marathon pace, I finished with negative splits. It was a great first long run back and I couldn't have been happier.
Friday my legs felt like lead and I took the day off. Saturday was mile repeats that weren't exactly on my previous pace but solid for coming off an injury. Sunday I was back in the gym for strength training. All in all it was a good welcome back week. My glute held up without any pain or strain and left my feeling positive about how the rest of my summer will go.
My next race is the Allen Stone Memorial 5k. I'm not expecting a spectacular performance but want to run well. I have six weeks to prepare and am looking forward to working hard again.
Meredith
How do you celebrate being injury free? Sign up for a race? A long run?