Buoy 44 is Just off the water on Chesapeake Bay, in the former Virginia Beach location of Alexander's on the Bay.  Destroyed by a nor' easter in 2009, the lot was an empty building for four years as the owners searched for a new tenant.  Buoy 44 opened in April, 2014 and provides a casual, family friendly environment that rounds out the dining options in Chix Beach.
Before heading to the restaurant, I attempted to preview the Buoy 44 menu by searching the web.  I was unable to find a Buoy 44 website, but their Facebook page (link above) did provide some insight.  The menu seemed small but looked inviting and the week's specials filled it out a bit.  Once we arrived at the location, complimentary valet parking meant we had no trouble getting to the door, and when we walked in, Doug, my mother and I were quickly seated inside by a friendly hostess.  We could see the deck and bay from our smoke free vantage point and watched many patrons enjoy the smoker friendly deck's views.
While perusing the menu, we were offered cocktails but not told the evening's specials.  As we waited for our drinks we found the specials listed on a chalkboard and when the cocktails were delivered we were finally told about them by our friendly server who seemed not particularly stressed out, but somewhat distracted.  The three of us also quickly noticed the noise level that resulted from a combination of low ceilings, a hardwood floor and metal tables and chairs in the dining area.  It was loud.  Our Cheesesteak Spring Rolls, one of the specials, came out with average speed but were quite delicious.  After the shared appetizer, I ordered the shrimp pasta, Doug ordered a steak and my mom ordered the crab stuffed flounder, another of the evening's specials.
As we waited for our main dishes to be delivered, our server returned to the table to tell us they had run out of the flounder special.  Very apologetic, she was quick to offer a menu and suggest another option.  As Mom scanned the menu for another meal, the server stepped away.  Only seconds later, she returned to say that she was wrong and the crab stuffed flounder would be arriving shortly.  It did, along with Doug's steak, though my pasta was slow in coming, dropped off close to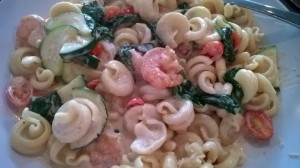 five minutes later.  Awkward.  There seemed to be a very serious lack of communication between the wait staff, the kitchen and whatever system kept track of the kitchen's inventory.
In spite of the troubles actually getting our meals to the table, we enjoyed the food.  Not one of the best meals any of us had ever had, but each plate was tasty and exactly as expected.  After wrapping up our meals, I made a visit to the restroom.  They seemed to have missed out on the renovation.  The Buoy 44 Ladies Room featured one regular stall and one wheelchair accessible stall where once white floors were worn black in high traffic areas and paper towel pieces could easily be found on the floor.  My stall door featured a wooden hinge repair, but the large vanity and two sinks were clean and brightly lit.
I returned to the table in time to decline dessert, order the check and be issued another apology from our server.  Not a place I would return to in hopes of having an exquisite dining experience, Buoy 44 does offer great views of the Bay and a deck I can definitely see myself enjoying as the warmer months roll on.  It's the perfect spot for an outdoor happy hour with a view as long as you don't mind the possibility of getting a nose full of cigarette smoke, though if the breeze is on your side, it wouldn't even be noticeable.  The large bar inside would also make for a nice happy hour spot, especially for those who don't enjoy a smokey environment.
Pluses:  Location!  Views!  Social, family friendly atmosphere.
Minuses:  No boat access, loud dining room, small menu, no website.
Will I go back?  There are numerous locales I find preferable, but it's certainly on the list when I'm in the mood for something casual, not feeling picky about my meal and ready to talk a bit louder than normal.
Meredith