Freekeh Fun + Giveaway!
I recently received two packages of Freekeh Foods thanks to my partnership with Sweat Pink and FitApproach.  I opted for original and rosemary sage flavors and couldn't wait to give the whole grain a try.  Before my recipe, here's a little bit of background on just exactly what freekeh is!
The Freekeh Foods website proclaims freekeh is "a process which means "to rub" in Arabic.  Freekeh was created by accident nearly 2,000 years ago when a Middle Eastern village was attacked and their crop of young green wheat was set ablaze.  Most folks would sulk over their misfortune, but the crafty villagers rubbed off the chaff, cooked it up and 'Eureka!' Freekeh was created."
One serving of freekeh contains three times the protein and fiber you'll get from brown rice with fewer calories than both quinoa and white rice.  It has a home low on the glycemic index, making it a good choice for everyone, especially diabetics.
For those of you who are gluten free by choice or necessity freekeh may not be a good choice.  With its early harvest, the gluten is denatured and may result in fewer stomach problems than other wheat and grain products but if you have Celiac, steer clear.
The Freekeh Foods website is home to a library full of delicious recipes but I chose to mix my rosemary sage up with teriyaki grilled pork chops.  The flavors mixed nicely, I loved the texture, taste and how easy it was to make.  The rosemary really complemented the Asian flavors and it's a combo I'll use again in the future.  I'm also looking forward to giving some of the official Freekeh Foods Recipes a try!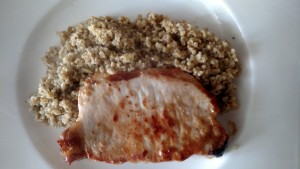 Enter for you chance to win a package of Freekeh Foods right here!
Open to US residents only.
Meredith
I received this product as part of my partnership with Sweat Pink and FitApproach but all opinions and work are my own.