The 2015 Rock n Roll Chicago helped me check off half marathon #20 and state #12.  I was happy to not have planned to race this event because it turned out to be a very hot weekend and humid race day morning.  I didn't taper coming into the weekend, didn't stay off my feet the day before the race and failed to properly fuel for a 13+ mile run (well, run, it's hot, walk, run).  After all that, I was happy to simply hit my goal of getting out there, not having a heat stroke, enjoying the morning and crossing the Finish line.  Here are the details!
Location – Chicago, Illinois.  A city full of activity for any time of year, the mid-western summer can be absolutely gorgeous.  Travel to and from the city as well as moving around once you've arrived is simple.  The short Chicago summers make the July event a busy and exciting time of year to visit the metropolis.
Expo – The 2015 Rock n Roll Chicago expo was a typical Rock n Roll style event.  It took place in the massive McCormick Place Convention Center and was filled with vendors, free goodies and participants.  With a two day expo, I definitely recommend avoiding the big day before the race crowds, picking up your packet and doing your shopping as early as possible.  If you're staying close to the Start or Finish, you'll need a cab for this one.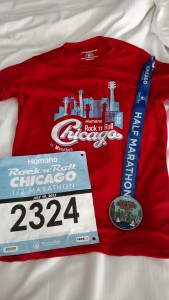 Dining –  Big city, tons of great restaurants.  With lots of hotels within walking distance of the Start and Finish there's a dining option for anyone.  Price points from $60 dry aged steaks to $10 juicy burgers make it easy to make your budget and your taste buds happy.
Parking – Traveling in from either of Chicago's airports without a rental car doesn't mean a thing.  It's easy to get anywhere you need to go using public transportation and once you're downtown, you can hop back on the train or walk just about anywhere you'd want to go.  Coming in from outside the city you might need to arrive more than a little early.  Parking lots fill up and with road closures, it might be challenging to navigate your way around.
Start – The half marathon and 10k do not share a start line.  I heard some less than great things about the 10k start situation but wasn't there to comment further.  The half marathon was well done with easy access to gear check, Port-a-Potties and the starting corrals.  In front and to the sides of the first corral there was plenty of room to get in a nice warm up for a race that went off right on time.
Course – Mostly flat with the exception of a few bridges the course isn't as scenic as I expected.  There wasn't much running along the lake or by some of the bigger landmarks.  Many GPS watches lost signals repeatedly as the course traveled under other bridges, the 'L' and a few overpasses.  There are lots of turns as you loop around the city but for 95% of the race I had plenty of running room.  Around Mile 11 we headed under McCormick Place for 400-600M.  This was by far the worst part of the course for me.  You head out of the sun into a long, dark tunnel that is filled with loud music and flashing lights.  I got dizzy, slowed to a walk and almost stopped to sit down.  It was very unpleasant.
Course Support – There were not many fans out in the heat this year but that could have been the main reason the cheering crowds were mostly limited to volunteers at water stops.  There were plenty of well stocked water stops which was great for the hot day and GU was handed out around mile 10.  Ice water filled sponges waited around Mile 9 and several misters helped keep things cool after the 10k mark.  The music on the course wasn't particularly notable and the course would have had long stretches of quiet had it not taken us through downtown Chicago.
Post Race – Big shiny medals are a Rock n Roll staple and this was no disappointment.  Iced towels, cold bottled water, chilled Gatorade, Power Bars and bananas all waited for those crossing the Finish.  Getting from the finisher chute to gear check was easy since it was in the same spot we dropped things off.
Great swag and good hot weather course support are two huge pluses while the biggest negatives were the tunnel under McCormick Place and lack of live bands.  Definitely not a PR race in the middle of July, I'd definitely support Rock n Roll Chicago as a great opportunity to hit the Windy City in the height of its summer season.
Meredith
Have you run Rock n Roll Chicago?  Raced in Chicago at all?