Tropical Storm Hermine tried her hardest to beat Team Rock n Roll Virginia Beach.  After threatening torrential rains and brutal winds Friday afternoon, she forced cancellation of the night's American Music Festival concerts many were looking forward to.  Saturday and Sunday's shows were moved inside with limited space.  While unfortunate for runners who traveled from long distances to attend this Labor Day weekend tradition, everyone's safety was both the city and Competitor Group's (the parent of Rock n Roll) top priority.
As far as Rock n Roll Virginia Beach events, Saturday's Mile in the Sand was also canceled by early Friday afternoon compliments of Hermine's impending arrival.  After getting that news and hoping to bear the rain I made my way over to the expo as early as possible.  I picked up my swag, chatted with my RWB friends and stocked up on energy gels.  While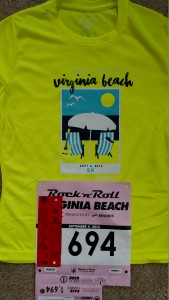 there I learned Mile in the Sand entry fees were automatically being refunded to all registered runners and they would still be able to collect their medals, towels and t-shirts.
Kudos to Competitor Group for this.  Those things were paid for and, honestly, what else would they do with thousands of items?  I guess they could have been donated but this decision was much better.  All in all, Competitor Group did an excellent job of handling the weather induced situation.  By Friday evening refunds were available not only to Mile in the Sand registrants but to runners of every race should they not wish to travel into Hermine's path.  Emails were sent out a regular intervals to keep participants apprised of any and all changes to race conditions or expectations (like fewer bands for the half on Sunday).  They were as accommodating as anyone could possibly have expected them to be.
Luckily, even though Saturday's race was cancelled, the beach was still open.  I took a walk down there at high tide, and almost blew away in the 40+mph gusts, but the surf was amazing.  It gave me a good idea of what to expect for wind conditions at Sunday morning's 5k.  With possible rain, 25 mph NNE winds and gusts over 45 I'm not feeling too confident about hitting that PR.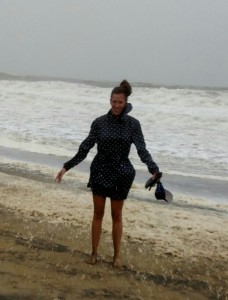 Every other runner will also be dealing with Hermine's wrath but it just doesn't seem like a best performance type of environment.  However…you never know, right?!  I'm estimating the first 1200M will have a crosswind, then a headwind for about 800M and a friendly tailwind for everything but the final 400M where it's back in your face for the Finish.  I'm OK with that.  I'll still give it all I have and get a good workout.
Meredith
How do you deal with weather changing your race plans?  Did you get out and play in Tropical Storm Hermine?