Last week was a busy one with lots of miles, a lesson remembered and some serious heat.  The highlights were a weekend filled with my longest run, 12 miles, since Coastal Delaware seven weeks prior and the North American Sand Soccer Championships.
I checked my long run off Thursday morning before the weekend's heat rolled in.  It was still warm, in the high 70s, when I finished and I got a very good reminder of how much I need to respect the summer sun starting around Mile 8.  I had plenty of water throughout my run but paid for leaving my electrolytes at home.  The pace was easy, 8:15 per mile, the whole way and I didn't feel any signs of dehydration at any point.  Starting around the one hour mark, I started having some unusual muscle fatigue, a general loss of energy and some slight cramping of my calves.  There wasn't anything I could do but take a few short walking breaks to jog the final few miles home.  I bounced back as soon as I sucked down the two vials of Oral IV sitting on the table.  My legs felt great and it was a solid run in spite of the salt issues because I knew exactly what was going on.  It was an excellent reminder of just how quickly things can go awry when the summer's here.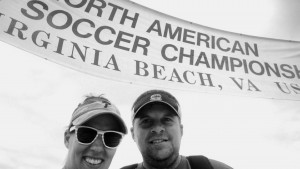 With a weekend free from a long run, I had plenty of free time after hitting the track Saturday morning to enjoy some of Virginia Beach's annual sand soccer event.  There were about 1,000 boys, girls and coed teams of all ages vying for championships in their respective divisions.  Over a mile and a half of oceanfront sand real estate is turned into sand soccer pitches with one big 'stadium' area.  That's where Doug and I settled in to watch Coasta Rica and FC Barcelona battle it out Saturday afternoon while working on our sunburns and staying hydrated on the 90+ degree day.  We had so much fun Saturday, we went back for the championship game Sunday in spite of the temperature pushing 100.  At least there was a solid breeze coming off the water to help keep us from overheating!  All of the guys are incredible athletes, racing around in the deep sand, scoring with bicycle kicks and perfectly controlling the ball at all times.  In the end, it came down to PKs and Team PUGG was the winner of a great match.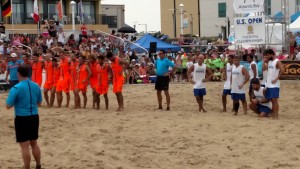 Meredith
Do you play sand soccer?  How do you deal with running in the heat?