Training rolled on last week after another round of physical therapy. I'm definitely feeling better and can tell a difference in my gait. A solid, positive one. Of course, if hopping right into race shape for this Saturday's EquiKids Cross Country 5k was that easy, none of us would be very concerned about injuries in the first place. But it's not. And nature has it out for me. It's like coming back from an injury wasn't bad enough, so the heat got turned on last week.
I really want to race well this weekend. It's one of my favorite events and I usually don't put in a great performance on the dirt trail course. There's something to be said for actually practicing. I do 95% of my running on roads since that's where I race, except for once a year but maybe one of these times I'll get it together. My biggest concern, however, isn't the race's surface. It's my grumpy right glute and staying calm (easy pace) enough to not get re-injured.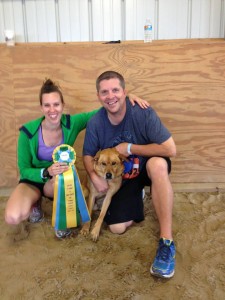 I did some speed work last week, keeping myself in check and staying within 30 seconds of half marathon pace for anything over 800M. I definitely feel more out of shape than I am and don't expect coming back to take too long. Except that it's 90 degrees out with 90% humidity and barely a breeze. Talk about a double whammy!
It could be worse. I could be 100% healthy and trying to prep for a fast 5k in rough training weather. Luckily coming back from injury is helping me keep things slower and safer in the warmth. Eventually I'm going to have to adjust to the summer's heat and humidity. It might as well be right now.
Meredith
How do you handle coming back after an injury?