It's time to catch-up!   First off, Happy Monday!  I hope you all day a wonderful Mother's Day and great weekend.  Luckily, the busy week I mentioned last Monday wasn't quite as busy as I had planned it to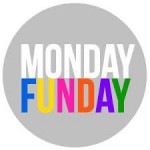 be, resulting in a stress free weekend of fun.
Let's start the Busy Weekend Catch-Up with Thursday.  Doug and I were supposed to attend a dinner party with several of his work associates.  Unfortunately, Doug came home Wednesday evening with a swollen face, draining sinuses and a fever.  Even though he felt a bit better by Thursday evening, a dinner party wasn't exactly the first activity on our list and we ended up not going.  I was actually glad to have the quiet night since my Friday was going to be extra busy with clients due to the EquiKids 5K instead of work Saturday morning.
Doug felt better Friday, and we resumed our busy weekend schedule.  First thing after work Friday, we went to the Volunteer Appreciation Happy Hour for those of us who had helped with the Oceanfront Spring Crawl at Side Street Cantina.  We didn't plan on being there long since it started at 6 and we had tickets to the Led Leppelin Symphony at 8, but immediately got into a pair of margaritas, chips with salsa and two orders of delicious tacos.  By the time we said goodbye to our friends and fellow volunteers, we had both downed three margaritas and filled our stomachs to the brim.
It was a quick drive to the Town Center area for the Led Zeppelin Symphony where there was quite a hustle and bustle of activity as pre-prom dinners began, the Virginia Arts Festival continued with street performances and concert attendees lined up and entered the Sandler Center.  The concert was amazing.  The Virginia Symphony was excellent, and not having been to the Sandler Center for music before, I was impressed with the concert hall's acoustics.  We
had seats 15 or so rows from the stage, right in the center and I'd definitely recommend seeing Brent Havens conduct the 2+ hour show if you have an opportunity.
Walking out of the Sandler Center post-concert, we happened upon a large crowd gathered around a group of performers hanging from, riding on and pedaling the most interesting rigging I've seen.  Arriving just in time to see some serious feats of strength and muscle control, Doug and I sat on a bench and watched the Cirque Mechanics for about twenty minutes before heading home.  It would have been great to catch the wonderful performers' entire show, but hopefully I'll have another chance.
A short walk to the car and we were homeward bound.  As I hit the hay around 11:30pm Friday evening, I did admit to myself three margaritas followed by two adult sodas at the concert were not two of my best Race Prep ideas.  I drank another glass of water, hoped my mild headache went away by the time my 6am wake-up call came around and quickly fell asleep.
Race Day dawned with the threat of rain, some heavy humidity and warm temperatures.  Doug, Jordy and I piled in the car and drove to the EquiKids farm.  Our third consecutive year participating in the 5K (me) and One Mile Run with the Hounds (Doug and Jordy) was a big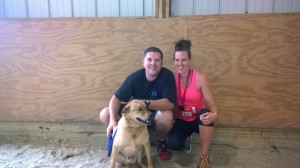 success and you can catch my review and recap later this week.  Post race, all three of us took nice long naps while we waited for my Mom to arrive in Virginia Beach.  After she got in, we grilled tenderloin fajitas with black bean salad for dinner, indulging in another round of Mexian inspired food, and watched The Words before heading to bed early.
Mother's Day began with an easy 5.5 mile run to wrap up my 36 mile week with a dose of warmth and humidity.  After the run, Doug, Mom and I went to Rudee's for brunch in the lovely outdoors and had a tasty meal.  Mom is here for the next few days, and I'm sure I'll have some exciting activities to report on, so thanks for the catch-up and stay tuned!
Meredith
What did you do this weekend?  How did you celebrate your Mom?