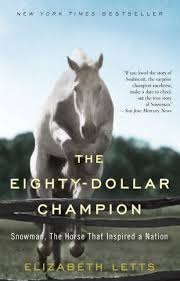 The Eighty Dollar Champion, by Elizabeth Letts, is a bestselling novel that takes you on an incredible journey with a man, his family and his unlikely equine champion.  Chock full of feel-good, the story of Harry de Layer, his wife and children and their rescued plow horse, Snowman's tale is a pleasure to read.
An amazing true story, The Eighty Dollar Champion is bound by history and serves it well.  Beginning with the de Layer's departure from a war-torn Holland, Letts follows them from their arrival in the United States through their first several homes before they settle in on Long Island for the long haul.  A simple riding instructor at a private school for girls, Harry de Layer dreams of making a living with his own horses.  In a country racked with Cold War tensions, post-war hardships and an emerging middle class, de Layer struggles to find the financial footing to show his own horses.
When Harry rescues a beaten down, cosmetically damaged $80 horse from a slaughterhouse truck for the lesson program he runs, he has no idea what lies in wait for both himself and the former plow horse.  Named Snowman by the de Layer children, the big white equine is slowly rebuilt, and through a series of humorous events, discovered and trained to jump.  From crashing through small obstacles to soaring over fences taller than a man, Snowman takes Harry and his family on an awe-inspiring journey from nowhere to the top of the equine world.  Up and down the Atlantic Coast for horse shows he could barely afford to attend while balancing his family and riding instructor duties at school, de Layer's desire to win on his own horse is more than admirable.  With a dream strong enough to turn down a blank check for The Eighty Dollar Champion's purchase, Harry and his very own horse win the Open Jumper Championship at The National Horse Show in Madison Square Garden in 1958.  Propelled to worldwide fame by the victory, Snowman and his family were some of the first outsiders to be welcomed into the haute couture of equestrian sport in the 1950s.  As they made their way in a changing horse show world and Harry achieved his dream, the de Layers were the everyman that inspired a population desperately in need of something to distract them from the brutality of real life in Cold War era-America.
Steeped in history, Letts' writing is emotional, honest and accurate.  Moments when the story attempts to get bogged down with historical detail are shaken off by moving glimpses into the relationship between Harry and his beloved Snowman, and when the bond between man and horse can be hard to capture, Letts excels.  Snowman and Harry 'The Flying Dutchman' de Layer deserve the gentle touch Letts gives them and she successfully brings the entire cast of The Eighty Dollar Champion into the living room with you.
Snowman's story is sure to delight and inspire any horse, underdog or long shot lover.  Readers will undoubtedly enjoy burning through a tissue or two during the journey from cover to cover.  Go get your copy of The Eighty Dollar Champion today!