It's been quite a while since I've shared a recipe.  I recently made these Tortilla Chip Crusted Chicken Tenders for the first time and really liked the way they turned out.  Here's the recipe for this juicy, tasty chicken dish!
Basics:
Servings: 4 servings
Prep Time: 15 minutes
Cook Time: 17 minutes
Calories Per Serving: Varies 160-240
Ingredients:
2 whole eggs, beaten
1 cup flour
1-2 cups very crushed tortilla chips
1 lb boneless chicken chicken breast, cubed
2 cups broccoli
1/2 cup Stonewall Kitchen Spicy Corn Relish
Instructions:
1.  Preheat oven to 425, grease large baking sheet.
2.  Place eggs (beaten), flour and crushed tortilla chips into separate bowls.
3.  Dip each chicken cube in egg, coat in flour and cover in chips.
4.  Place each coated tender on baking sheet making sure none of them touch.
5.  Place in oven for 17 minutes at 425.
6.  Steam broccoli until tender.
7.  Remove tortilla crusted chicken tenders from oven and (optional) top with spicy corn relish.
8.  Serve tenders warm with broccoli.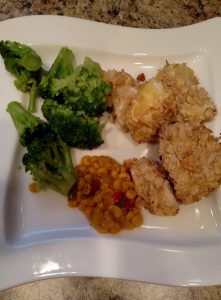 Additions:
For extra flavor, add spices or herbs to the flour bowl.
This is also great with a black bean and corn salsa.
Brown rice is a good way to pack in some calories with this dish.
Meredith
What are some of your favorite recipes?  What would you do to make these tortilla chip crusted chicken tenders your own?
**I purchased the Stonewall Kitchen Relish and received no compensation
for using or promoting it**