Movies are great.  Except for when they come from a book.  I've recently finished two novels, one of which is about to hit theaters and the second of which is slated for a fall release.  February 7, 2014, Robert Edsel's The Monuments Men will be in your local movie theater, while Gillian Flynn's Dark Places will show up in September.  I won't recommend either film, but I won't put the kabash on going to see either of these movies either.  Why?  Because the book is always better than the movie, and I loved both books.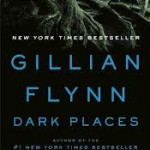 Having read these two wonderful novels back-to-back, it was interesting to sit back afterwards and think about how they would translate into film.  Dark Places seems ripe for translation to screen, while I really struggled to see how The Monuments Men will work in another medium.  Of course, lots of books seem like they'll make great movies and end up being, eh, not-so-good on the big screen.  Take one of my all-time favorite flicks, The Godfather, and one of my favorite television series, Game of Thrones, a a pair of examples.  The movie/show is amazing.  Until you read the books.  Writing rich in detail, plot lines that twist and turn, and small but important characters are dulled, dropped and deleted from film editions.  For me, that sometimes makes the movie a disappointment, even though I understand the difficulty of taking a book to the big (or small) screen.
The Monuments Men was a fantastic tale of war, friendship and adventure that I really do not see making a good film at all.  The production company has enlisted a stellar cast and, I'm sure, not spared a dime in its efforts to create a success.  With pages and pages of
footnotes following the story's end, it's hard to imagine how that much history will appear on screen.  Intricacies in the characters' relationships, in their missions and the history lessons they teach the reader won't be easy to put on film, and to be honest, I'm not sure I want to see it there.  Each sentence that doesn't make it from the text to the script will feel like a gaping hole in the tribute to a group of people who fought valiantly to save both our own culture and the enemy's.
Dark Places, on the other hand, is sincerely a thriller.  This is one I can't wait to see.  The novel's plot, characters and design beg to be taken to the movies.  I'll be interested to see what is left out of the film, and unlike with The Monuments Men, believe absences won't necessarily hurt the genuineness of Flynn's story.
In in the end, I expect to find The Monuments Men a let down, but wholly expect to enjoy Dark Places.  Nothing can ruin the books for me, but the books sure can ruin the movies.
Meredith
Do you think books make good movies?  What are your favorites?