I posted on Tuesday about a dream I had last Friday night, and since I'm posting a few days after the fact this week, I'll tell you about my Monday even though it's Thursday 🙂  Monday brought plain old nasty weather with sleet and about an inch of snow creating some slippery conditions that forced me to do some at home crosstraining instead of getting a run in.  After the workout, it was time to throw some salt outside, make dinner and relax.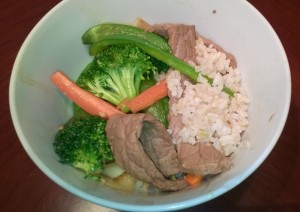 All evening long, snow came down, school closings were announced and work report times delayed.  I made a brand new beef stir fry (you can find it here, on the FitNicePT blog when it's published), and Doug and I decided to open one of the bottles of wine we had picked up last week.  I did promise to review each of them, and after scanning the wine rack, our winner was the 2011 Running with Scissors Cabernet Sauvignon.  At only $10.99, we weren't exactly expecting very much, but it wasn't a total disappointment.  It was an easy drinking, light bodied, not very fragrant California red wine that tastes grapey and has little aroma.  Another year or two in the bottle might do it some good, but for a crowd or an everyday, house wine, it's a great value.  We partnered it with a beef stir fry, and I expect it would pair well with just about anything since the wine isn't too powerful, but have to say a hearty, flavorful food will easy overtake it.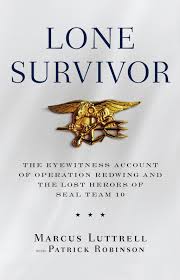 While sipping on a glass of wine, I settled into the couch with my latest book, Lone Survivor.  I had been to see the movie, and since I've found in most cases where a book has been translated into a screenplay, the book is superior, figured I needed to give this one a try.  So far, it's been excellent.  Well written, fast moving and incredibly engaging, I can't wait to dive back in.
Before turning another page, I'll knock out my final long training run before the Shamrock.  It looks to be wet and windy tomorrow, but at least it's only 10 miles!  I can't believe how fast it's approaching.  I was just feeling like training was dragging on forever and the race would never arrive, but lucky for me, it's almost here.
Meredith
Do you have a favorite everyday red wine?  What are you reading right now?