Last weekend I ran my goal race.  My 2016 Wineglass Half Marathon race was a disaster.  I loved the event itself but my running featured a total meltdown that I'm actually glad I had.  For race day specifics, check out my review on BibRave!
The race day schedule did not really suit me but I succeeded at not letting it get to me.  I took a mandatory shuttle 15 minutes to the start then hung out for an hour in a gym before warming up.  I'm a get up and go type so this definitely put a cramp in my eating, sleeping, relaxing, game ready routine.  After gear check and potty, I warmed up and toed the line ready to rock 13.1 miles.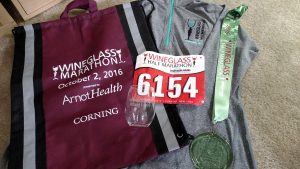 I had worked hard all summer and was looking forward to nailing this race.  I felt good.  My legs were fresh while my head was in the right place coming off my congestion.  I had an excellent first seven miles on pace to hit my PR goal but my body felt all wrong.  I was working much harder than I should have been and it felt way more difficult to maintain my desired pace than I had expected.  When I hit Mile 8 slightly behind my goal pace with already fried legs my head started to get the better of me.  The source of my pain turned out to be my shoes.  They were old and I hadn't run in them in quite some time, saving them for this race.  Big mistake.  But I'm not going to blame a bad race on shoes.
What really pushed me over the edge was a gentleman I had been running with for a few miles saying "aren't these views amazing?" just as I noticed I was behind goal pace.  My response: "What views?"  That's when the meltdown began.  My entire body hurt with 8k to go.  There was some hip pain I had never had before bothering my left side.  So I quit.  I wasn't having fun.  I was totally miserable.  Yes, I was disappointed to have a bad race, sad I was going to miss my goal but I was also in pain and pushing for no reason.  I took a deep breath, stopped and looked over to the mountains.  Actually stood still for 30 seconds.  Starting again, I jogged the rest of the race.  I spent time looking around, cheering for other runners and chatting with water stop volunteers.
No one is paying me to run these races (except when I'm a pacer).  It's supposed to be fun.  Somewhere along the way this fall I lost that.  Turned out this race wasn't about hitting or not hitting a PR for me.  It was a total reality check that I desperately needed.  Running is fun and I have to get back there.  I'm taking a week away from running, rewriting my upcoming months of marathon training, buying all new shoes (more on that later), backing off my aggressive run 50 states schedule and focusing on having fun.
Meredith
Have you ever had a meltdown during a race?  What did you learn from it?